Why Insulate Your Garage Ceiling | Spray Foam Insulation
Owning a property with an integral garage may be convenient from an accessibility standpoint but it may lead to some unexpected issues. There are a lot of properties in Toronto with this kind of structure and all the owners, unknowingly, may be facing the same problems.
The Above-Garage Room Is Cold
Having a cold room may be acceptable during summer but it can get uncomfortable during winter. It is the main cause of high heating bills, and even at its capacity, the heating won't be enough in the coldest months. We all know that the garage is the coldest environment in the house because of many factors, such as the size of the garage door, and the lack of insulation. As the cold air moves throughout the garage, it will make the ceiling colder which will result in a cold above-garage room floor.
Too much noise coming from the garage
Integral garages, don't just bring in cold air but also allow for noise to travel. A garage is often used as an extension of the living space, so it is normal to hear the sound of the washing machine or other noises associated with the space. If your garage is also the area where your kids play, you might be feeling lucky that you are reading this article.
What needs to be done?
Insulate the ceiling of the garage
If your garage is not a functional space, you might consider insulating the ceiling. This won't let the cold affect the temperature of the above living space and it has noise control properties.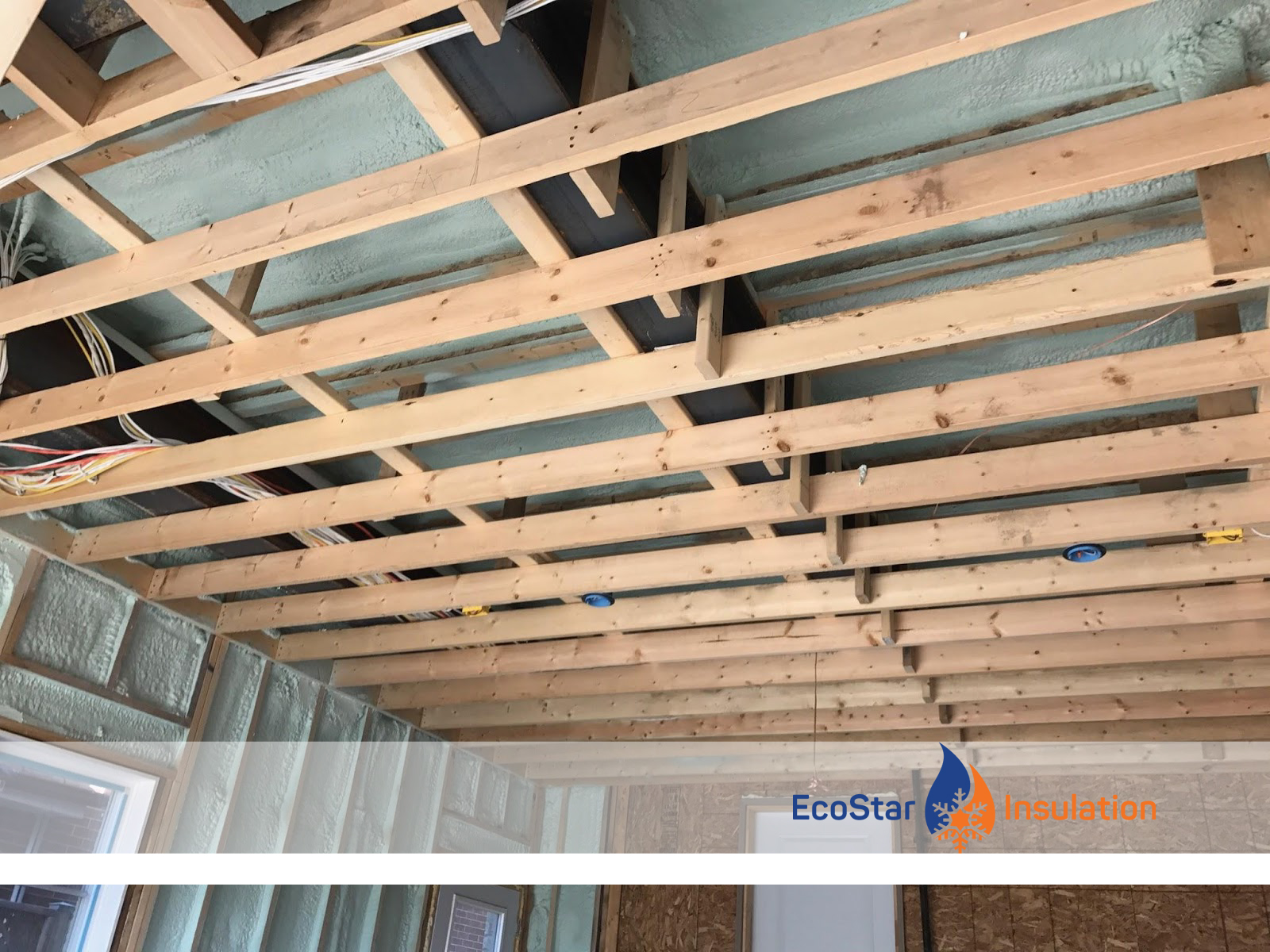 Insulate your garage entirely
You may be planning to utilize the garage space more often for personal or business purposes. In this case, insulating the walls and the ceiling may be in your advantage. This is an effective solution that makes the garage a better area for the whole family. You will find it way more comfortable if you want a garage to spend time on.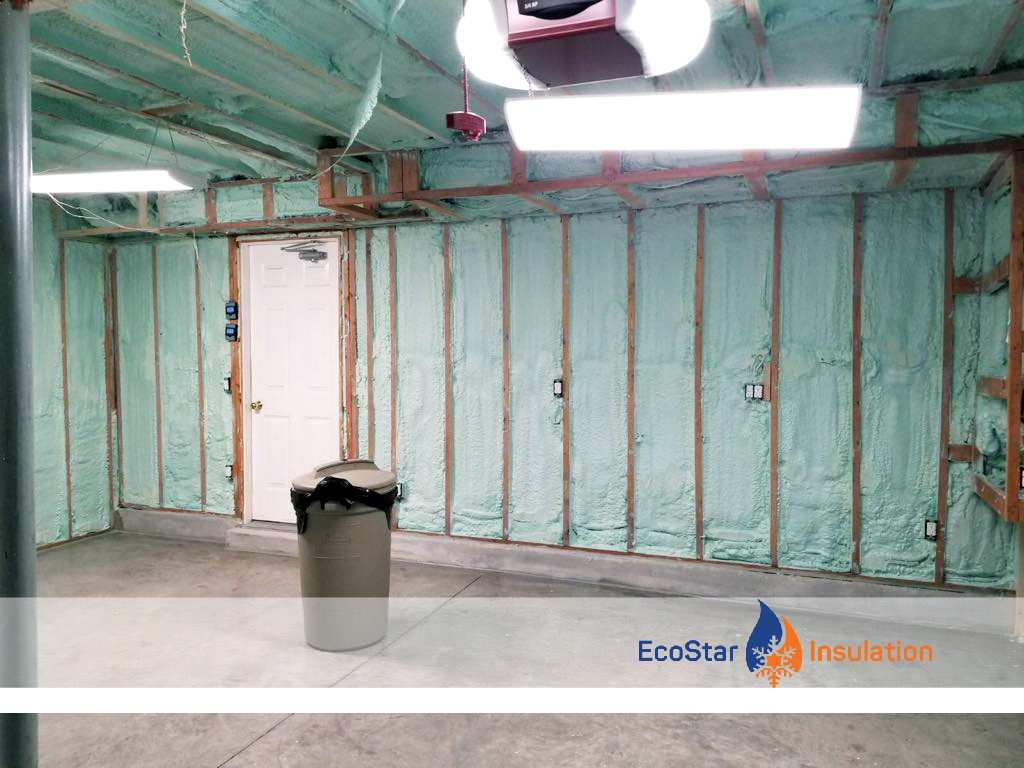 What we suggest
When planning the insulation, it is important to choose the best material. We suggest Spray Foam to homeowners as it is a product that offers comfort and energy efficiency benefits. It also helps to insulate even the hardest to reach areas. Spray Foam insulation is a well known and proven material that makes your house more comfortable. Read here why Homeowners in Toronto are Choosing Spray Foam Insulation.
Insulating your garage ceiling with spray foam leads to:
You have probably been living in a house with an uninsulated garage for some time and at some point, you decide to have spray foam insulation installed. After insulating your garage, you will certainly notice a reduction of noise that comes from outside the living space. If your garage is also the place used for a band to play, applying spray foam insulation in the garage will satisfy your ears.
Lower Utility Bills in All Weathers
No matter if you live in a small property, in the center of the city or a large, sprawling residence, you will always look forward to lower heating and cooling costs. The room above-garage will be much more comfortable after the insulation in every season. This is because the warm air won't be able to escape in winter and less cool air will enter the building. In other words, once you have insulated your garage with spray foam, your utility bills will be reduced.
A Reduced Carbon Footprint
where everyone in Toronto is concerned about the environment, it is worth mentioning that insulating the garage has its contribution to offer. Since your house will be warmer during winter and colder during summer, your household will have a correspondingly lower carbon footprint. You will be spending less gas and/or electricity and the environment cheers you for this!
An Effective Moisture Barrier
Spray Foam Insulation, being the best solution for the above-garage room temperature adjustment, creates a very effective moisture barrier that helps in preventing mold and mildew. Considering that Toronto is well known for humid summers, excessive moisture can result in damp walls, floors and ceilings that are ideal breeding grounds for mold and mildew. A quality spray foam insulation will give you peace of mind.
Spray foam insulation may be more expensive than traditional insulation, but it is a long-term investment. And something important to add: you don't have to renew it.. It provides comfortable temperatures, mold and moisture prevention for the lifetime of your property. If you have already made up your mind and need a spray foam insulation company located in Toronto, call EcoStar Insulation. Someone will provide you enough information about your building's actual statement and needs!
A Healthy and Happy Environment for Your Family
By preventing mold and mildew, spray foam insulation will be the cause of air quality improvement in your living space. Airborne spores spread mold and these spores can impact negatively on those who live in houses with mold. Spray foam insulation eliminates one of the root causes of dampness in the home, the moisture that enters the building. This way, you will be safe from all negative health effects that moisture causes to the people living in the insulated building. You and your family members will be able to breathe clean and healthy air.
Conclusion
The garage is a big gate where cold can enter and affect the living space. Insulating your garage ceiling helps to adjust the temperature above the garage. This will also save you some money on heating. EcoStar Insulation is a specialized spray foam company that provides high-quality spray foam services for commercial and residential projects. Moreover, we use spray foam products according to the highest standards of the market by being environmentally friendly and efficient. If you have already decided to insulate your garage, we suggest choosing spray foam as a material. Insulating with spray foam also provides you noise reduction, smaller utility bills in all weathers, a reduced carbon footprint, an effective moisture barrier. Spray foam insulation is a long-term solution and a smart move to be done, if you are concerned about having a healthy family, comfortable environment and not only.