Why Contractors of Commercial Roofs Choose Spray Foam?
Contractors of commercial roofs are always in search of the best alternatives which lead to better-insulated buildings and lower future costs. In recent years roofing Spray Foam insulation is one of the most preferred options due to the numerous benefits it brings along.
The more you invest in preserving your building temperature, the more you need to think about installing the right roof insulation and the right R-value for the first time. It can help you to avoid costly damages and unexpected expenditures caused by improper insulation. That's why commercial roof insulation should be done well in one shot.
How Are Commercial Roofs Insulated?
Spray foam insulation for roofs goes to different Steps until the final result.
Even though every installer has its own way of working, the process goes usually like this:
Step 1: Prepare the existing roof/new roof
This depends if either it's a new building or an existing one. If there is a new building the structure will need to be prepared for application. On an existing roof, the top or substrate will need to be prepared in advance before the application, and these consist of different duties like eliminating oil, dust contaminants, and other particles. There are also some other things to be taken into consideration like the age of the roof and the previous material used.
Step 2: Polyurethane foam application
After finishing with the roof preparation the first layer of spray foam liquid is applied by the contractor. As you can guess the foam will expand 20 times more from its original size. This will lead to a seamless, leak-proof, airtight application that makes spray foam so great. Even though you can imagine 20 times huge expansion by the end of the process the spray foam will be only 2 inches in thickness.
Step 3: Second layer application
After putting the first layer the roof is ready for its top layers. These processes protect the roof from all weather conditions—wind, sun, rain, hail, moisture, humidity, UV light, and more. This coating is the key to secure the longevity our client aims for.
This is the most desirable step and the one it takes longest – You enjoy the final results and the amazing work for years and decades. After all this process your rooftop will be set up for a considerable length of time of utilization watertight and seamless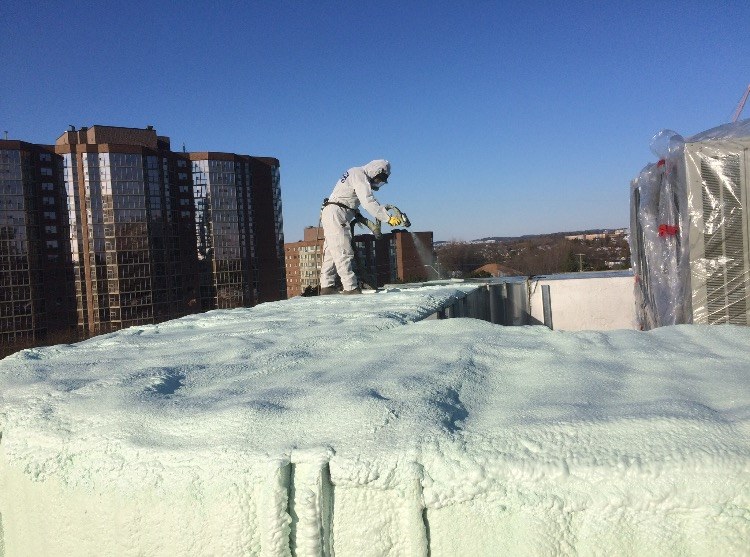 Types of commercial roofs
Commercial roofs are built in many ways; each one is built according to the needs and the budget of the owner. Below we have the most usual ones. The six most common roofs classifications include:
Built-Up Roofing (BUR) Membrane
Built-up roofing, aka "BUR", is primarily your well-known standard tar-and-gravel roof. It's constructed with multiple layers that enhance durability.
Metal roofing is a quite used commercial roof type because there are so many different ranges of metal materials available for use in such a roofing system.
Since metal is liable to rust, protective surface layers are added to manage damage from prolonged exposure to sunlight and also to other environmental risks.
These roofing systems are generally fastened to commercial rooftops as two-ply systems, adhered to the roofing deck for the maximum level of stability and full protection.
Thermoset (EPDM) Roof Membrane
The Thermoset roof system offers long-running durability paired with a simple installation and ease of maintenance as it is repairable in comparison to most other commercial roof types.
Thermoplastic Polyolefin (TPO) roofing systems are lightweight, highly reflective, and provide maximum weathering and also excellent resistance to UV light, punctures/tears, and also to most of the chemicals.
Garden "Green" Roofing System
Green roofs are one of the most versatile kinds of commercial roofs preferred nowadays. They've not only become widely used in recent years, but they present an excellent sustainable option for commercial properties and businesses.
PMR Roofing Assemblies
PMR Roofing Assemblies (Protected Membrane Systems) considered as inverted, or upside down roofs. In PMR assemblies; the waterproofing membrane is applied to the roof deck, and the insulation application is exterior to the waterproofing membrane.
Types of insulation for commercial roofs
There are different types of roof insulation materials, and they vary in material type, R-value, installation, and manufacturers. You should take into consideration to hire a qualified contractor so he can recommend the best commercial roof insulation for the project.
Here are listed the most widely used commercial roof insulation types:
Polyisocyanurate (Polyiso)
Extruded Polystyrene (XPS)
Expanded Polystyrene (EPS)
Mineral Wool
Spray Foam (3lbs spray foam)
Fiberglass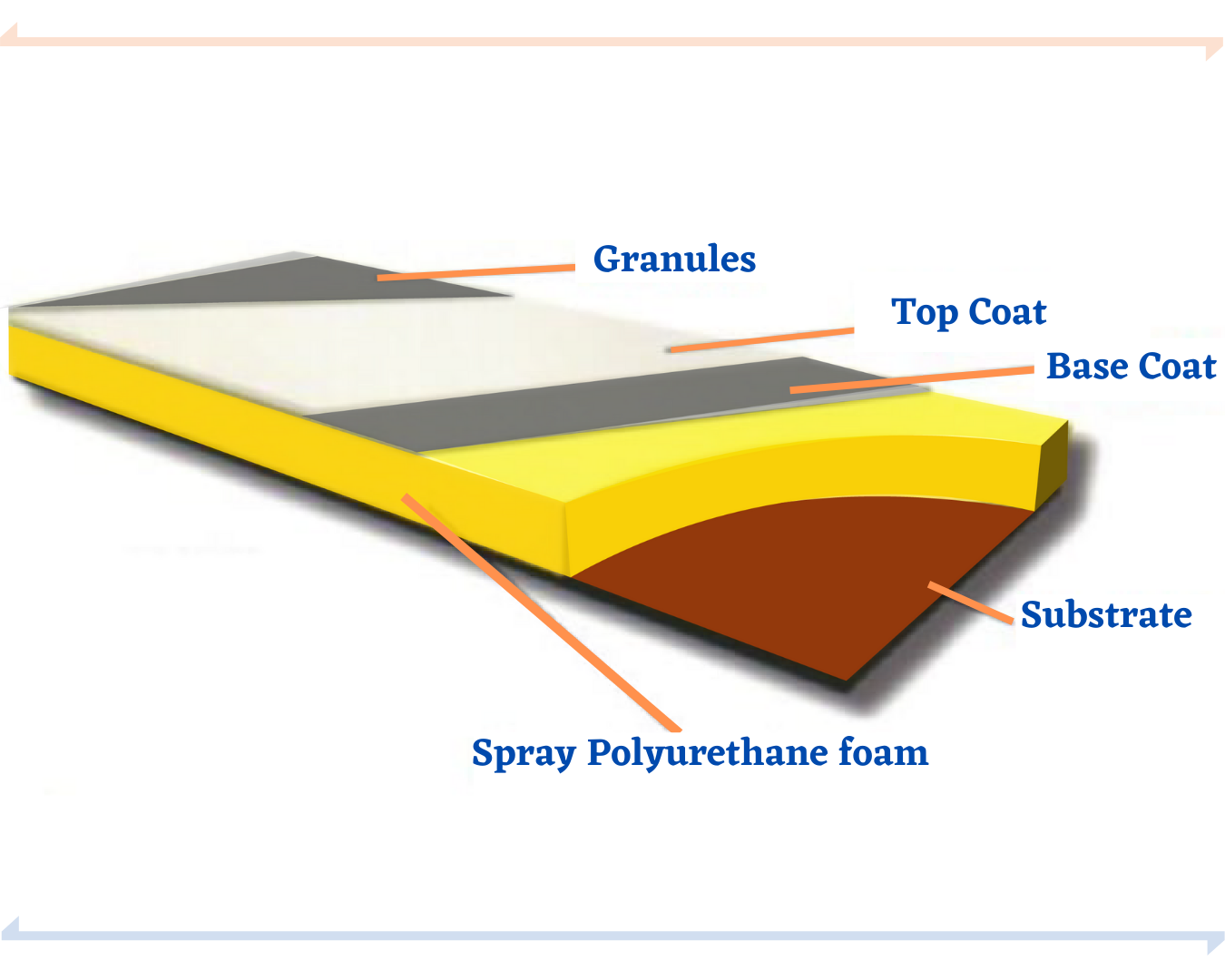 The advantages of roofing spray foam for commercial roofs
If properly installed and maintained, a commercial Spray foam (SPF) roof can last over 50 years and you will enjoy a problem-free roof insulation.
The benefits of installing spray polyurethane foam on the commercial roofing system - are more in terms of installation, performance, cost, quality, and longevity - compared to other roof insulation types.
Spray foam roof insulation delivers thermal, air, and a moisture barrier and provides the highest R-value per inch among spray foam, which means the material provides by far the best insulation capabilities for the building.
The durability of SPF Roofing excels in traditional roofing systems. The 3lbs foam material can expand and contract with the building in line with outside temperatures, reducing the likelihood of cracks and splitting.
After installed, the spray foam roof can be walked on without causing risks or damages. If the roofing system gets damaged for any possible reason, there are typically no leaks because the puncture usually doesn't go through the full thickness of the foam.
Since the spray foam application sticks on the roof , it can fill gaps, seams, and cracks in the existing roof system. The continuous solid surface does not require joints or seams, removing the most vulnerable area for leaking. SPF roofing can be installed by the specialists to level out uneven roofs and so the pounding water is reduced.
Different from other roofing systems, installing an SPF roof won't produce waste, and when it's properly sustained, Spray Foam roofing systems most likely stay out of landfills.
There are different ranges of eco-friendly roofing materials, which feature zero ozone depletion potential (ODP), ultra-low global warming potential (GWP), and solvent-free silicone coatings.
Why use 3-pound spray foam
As we can assume from the name this particular spray foam has a denser structure compared to the medium-density or low-density spray foam insulation and that's why is called high density spray foam. Therefore, it needs more material to cover and insulate different spaces and does not expand as much as the lower density foams. One of the advantages is that High-density foam insulation helps to minimize energy costs over the lifetime of the roof while providing high protection against heat and also water infiltration. It also contributes to strengthening the structure that it is applied to. The bond between high-density spray foam insulation and the roof can increase a building's resistance to wind too.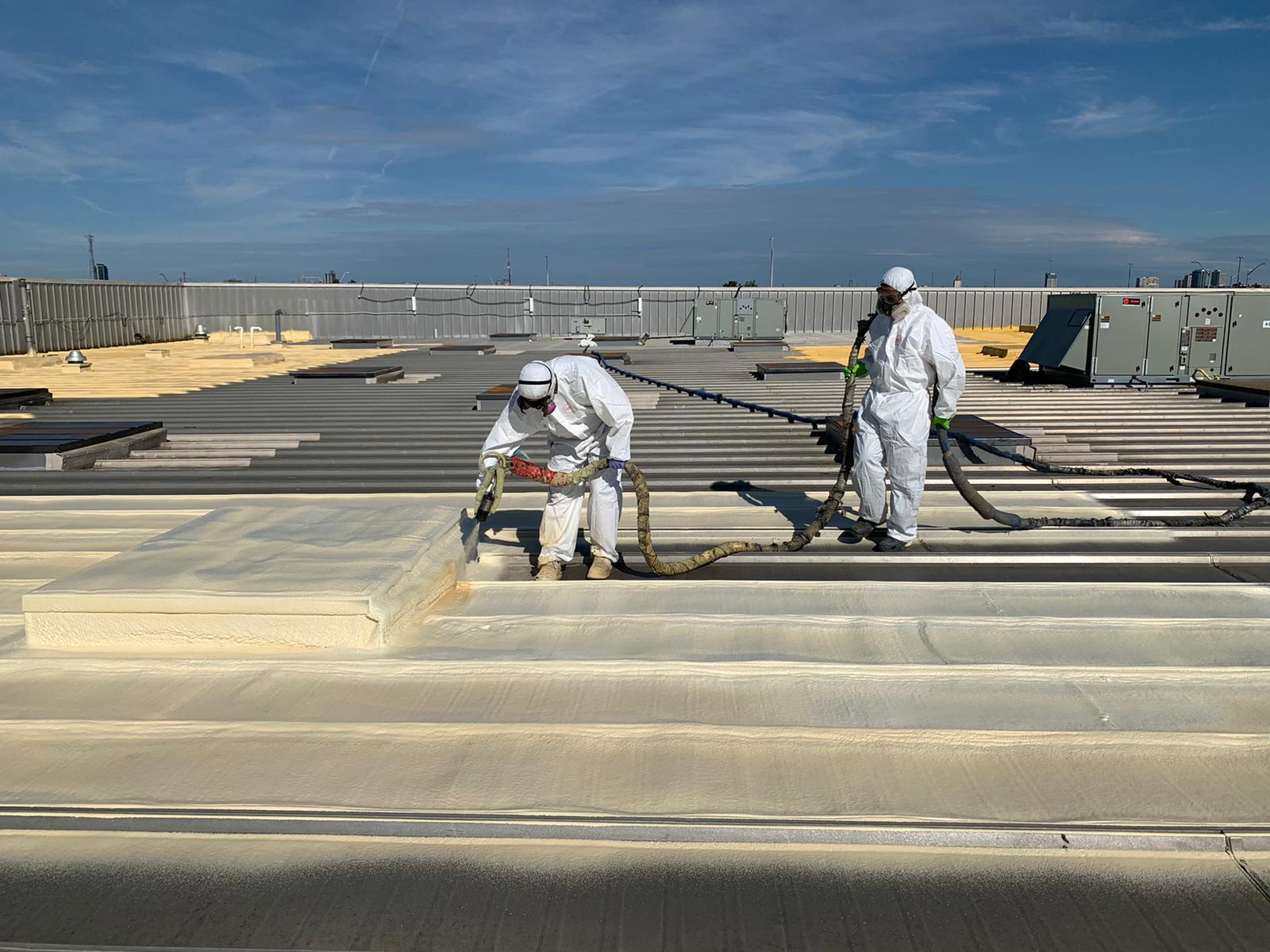 EcoStar Insulation - Spray foam commercial roof
When it comes to spray foam insulaiton in Toronto and roofing services in the nearby areas, the insulation contractor has to be very carefully selected. Ecostar insulation has been in the polyurethane foam insulation industry for many years and our involvement in big commercial projects has equipped us with the necessary experience to deal with commercial foam insulation services. Our passion about spray foam underlies everything we do and everything we are. We're always happy to share our knowledge of spray foam and provide the best insulation solutions to improve the building's sustainability.
If you'd like to know more about the roof insulation in Toronto, give us a call at 1-866-789-1536 or 647 799 3106 and speak with one of our EcoStar representative's, or visit our website www.ecostarinsulation.ca for more information about the insulation products and services that we offer.