What are air barrier systems?
While building codes begin to mandate higher levels of energy efficiency, the direct implication are building envelopes that must become tighter in terms of air changes per hour. In order to reduce the tightness of the envelope, every building needs an effective air barrier system (ABS). Air barriers are material systems constructed and designed to control airflow between a conditioned and unconditioned space. The air barrier systems are the primary air enclosure boundary that separates outdoor air and indoor air.
In multi-unit/apartment/townhouse construction the air barrier system also separates the conditioned air from any given unit and adjacent units. Air barriers act as an air and vapor barrier for waterproof applications.
Demilec provides auxiliary products and Heatlok ABS Membranes, matched perfectly with Heatlok insulation to give you the confidence of a single source of insulation and of an air barrier material. Combine that premium material with factory-trained inspectors and installers to get the full potential of the product and to prevent any undesired outcome. Suitable for masonry and construction, the Air Barriers can also work in dry or wet climates and at low temperatures. Heatlok ABS help you achieve the expected results.
Heatlok Air Barrier System Benefits
Heatlok ABS (Air Barrier System) is a complete system that utilizes a transition membrane from Demilec and closed-cell spray foam. Heatlok air barrier systems are designed specifically to improve the sealant and adhesion of Demilec's Heatlok spray foam insulation. Air barrier systems eliminate the need to air seal interior detailing, like plumbing and electrical outlets. House wraps do not interfere with the usual schedule of the contractor. Air barrier systems reduce the effect of wind and rain. Some benefits of this system are:
Effective air and vapor barrier
Suitable for construction and masonry
Strong adhesive capabilities
Works in low temperatures
Resistant to Ultra Violet discoloration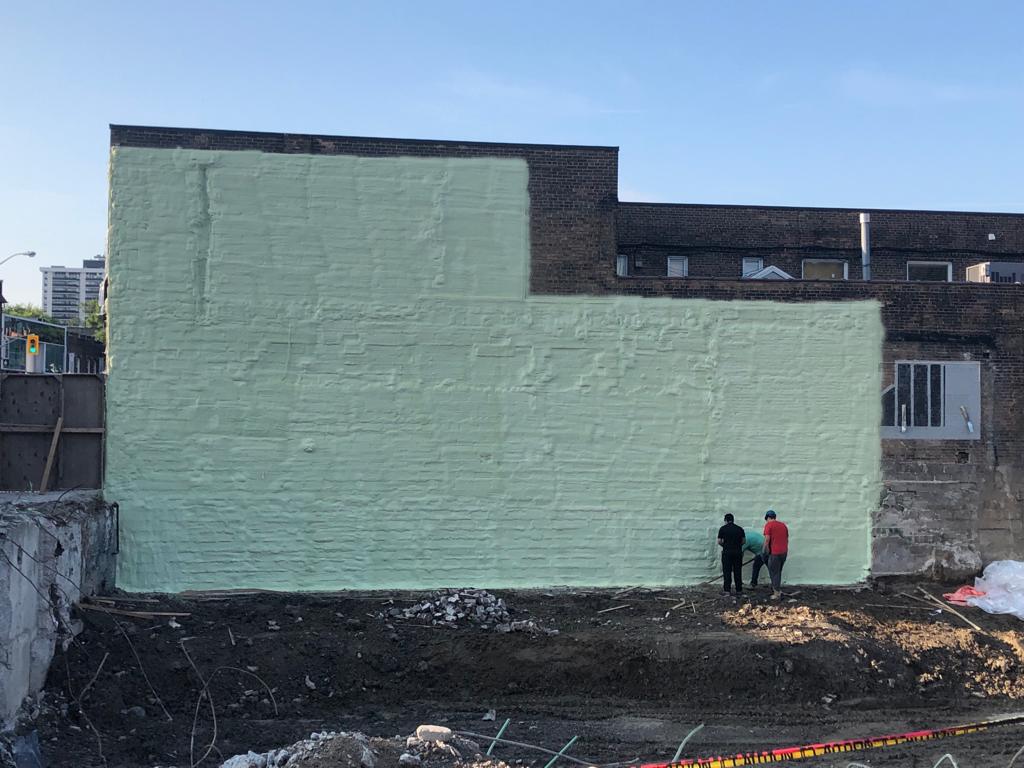 Exterior Insulation Air Barrier System
In this kind of control layer, you see the vapor barrier and air barrier separated, with the insulating layer towards the exterior of the building. Usually, this type of control layer is made with a rigid material and it needs to be able to withstand changes in air pressure and should be installed continuously over the entire building unit or structure.
In colder climates like Canada, we generally find the exterior air barrier controlling the entering of the exterior air, and interior air barrier systems controlling the exit of the moist interior air.
Different materials are used in external insulation air barrier systems, such as:
Self-adhering membrane sheets
Concrete panels
Breathable insulated structural sheathing products
The pressure boundary and air barrier also separate garages from conditioned spaces. In this regard, an air barrier is also the "gas barrier" and provides the gas-tight separation between the remainder of the house and the garage.
Four common approaches are used to provide air barriers in residential buildings:
Exterior air barrier using exterior sheathing
Exterior air barrier using housewraps
Interior air barrier using framing and drywall
Interior air barrier using polyethylene spray foam
Installing external insulation air barrier systems leads to, lower heating and cooling bills, more energy efficiency, less drafts of hot or cool spots, and increased longevity of HVAC appliances. Homes that are built with old codes often have little to no air barrier installed, leading to all sorts of problems with air infiltration, mold growth, moisture, drafts, and other uncomfortable and potentially damaging weather-related issues