Considering spray foam insulation for an upcoming home project?
Consider the following:
Being well informed about the different types of home insulation and their strengths can be valuable. At the same time, every manufacturer will emphasize that they have the "best" product. Just like every spray foam insulation contractor will emphasize that they provide the "best" install. Read on to see why we believe Spray Foam insulation is the best choice for you.
Homeowners in Toronto are Choosing Spray Foam Insulation
In Toronto, local professionals are choosing spray foam insulation as their application of choice more and more. Also referred to as Spray Polyurethane Foam Insulation, the product is applied as a concentrated foam and is allowed to spread and harden into a dense "blanket" of insulation. Spray foam insulation is the ultimate sealant and insulator, acting as an air barrier and vapor barrier simultaneously.
Investing in practical and energy efficient home insulation such as spray foam insulation is the perfect long-lasting solution for homeowners who are looking for a solution to increasing home electricity bills. So, let's find out:
What are the best places in your home to install spray foam insulation
How Spray polyurethane foam insulation in beneficial
Spray foam insulation R-value and energy efficiency
What the cost of spray foam insulation depend on.
Best Places To Install Spray Foam Insulation In Your Home
Basements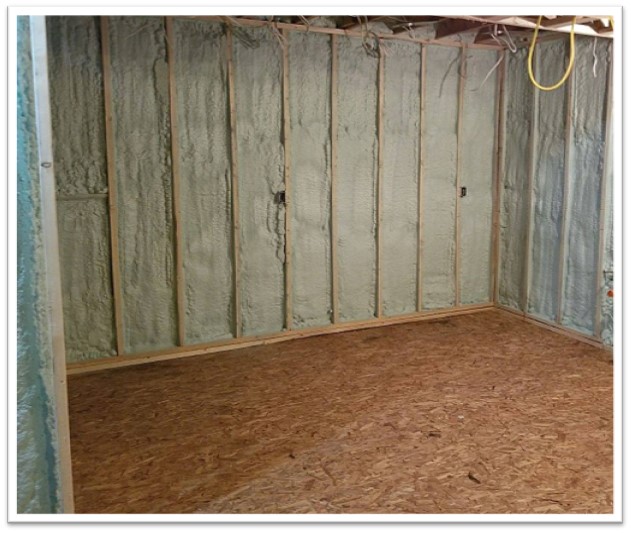 Basements are as important as the rest of the house, and properly insulating the basement has enormous payoffs. A well-insulated basement can significantly reduce home heating and cooling expenses and prevent the growth of mold and mildew in the basement that can cause much damage in the long run. Although several insulation products can be used for the basement, spray foam insulation has become the top choice for professional contractors and Canadian homeowners in the last decade. Firstly, because the closed cell spray foam insulation does not harbour moisture and mold growth. Secondly, it provides a continuous layer of insulation free of fissures and gaps that can cause leakages. Lastly, spray foam insulation has the highest R-value per inch and uses less material to insulate that same area, as other insulation products would use. Especially for those who want to save as much space in the basement as possible, the spray foam is the one that provides high insulation on the walls and keeps the wall thin. Therefore, spray foam insulation has been proven to be the most efficient and preferred product while insulating the basement.
Attics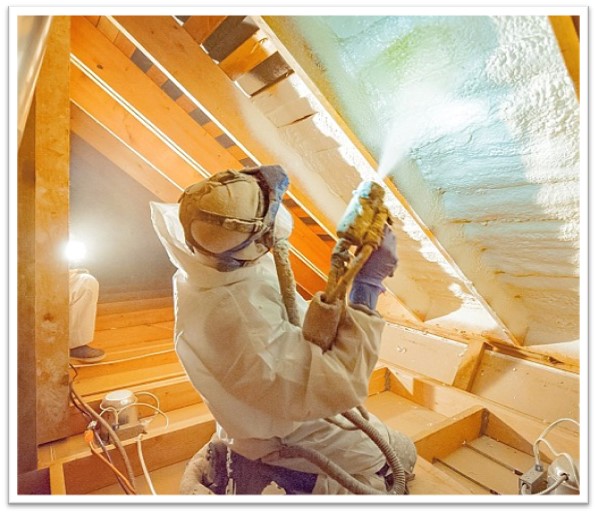 Installing spray foam attic insulation is ideal for updating or retrofitting existing insulation to reduce your monthly energy bills since the attic is where homes mostly lose heat during the winter months. Spray foam attic insulation is preferred due to its high performance and durability, preventing weather damages and creating a perfect air barrier. Apart from the performance, spray foam attic insulation comes with enormous money-saving benefits in terms of energy bills. Experts say that spray foam insulation can last more than 30 years with proper installation and correct maintenance. As there are many attic types, feel free to give us a call and consult with our spray foam specialists to figure out what is the best insulation solution for your attic.
Floors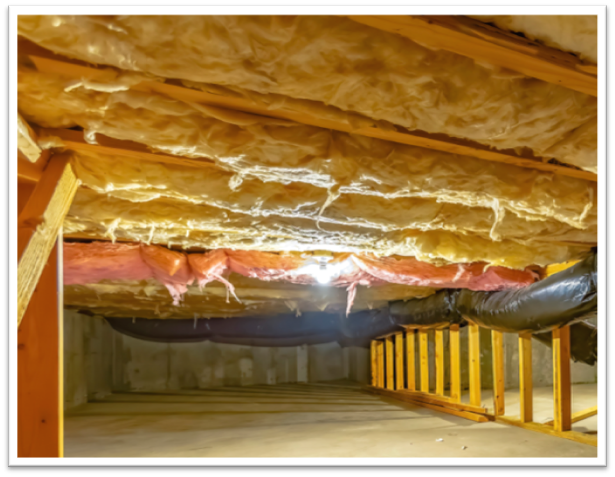 Spray foam insulation for floors not only reduces electricity bills but also makes the walk around your property more comfortable. Spray foam products are engineered to bind directly to the floor to remove any cavities or air leaks and stay for the life of a home. In homes with pipelines going beneath the floors, insulation provides extra protection during freezing winters, when pipes are prone to cracking due to water freeze. Spray foam floor insulation is a once and for all solution to deliver outstanding results for a lifetime. A straightforward application of spray foam insulation for floors is the insulation of the cantilevered floor or the crawl space floor insulation.
Roof Cavities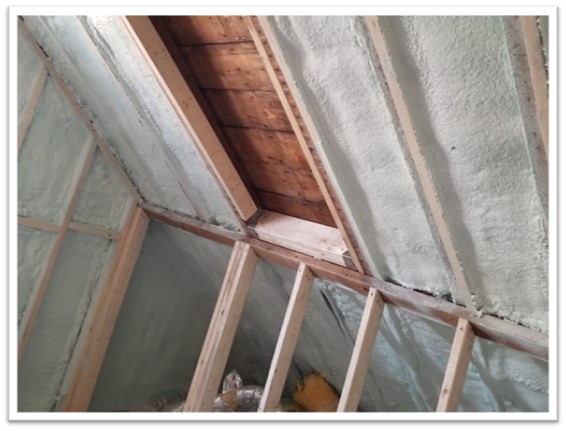 Properly insulating your roof with spray foam insulation allows the temperature to remain closer to set room temperature, supplying an even temperature distribution all over the house. Experts advise taking care when sealing any infiltrations such as around windows, smoke detectors or light fixtures. Moisture enters through these cavities then fills through the drywall itself. Therefore, it is very important that the roof cavity is properly sealed with spray foam insulation to prevent moisture intrusion and roof degradation.
Spray foam insulation is a specialized application that requires a high level of product and installation expertise. At EcoStar Insulation, our insulation contractors understand that it is more than just installing a new product. EcoStar professionals treat the home as a "system" – all insulations will:
Effectively blocking any undesirable airflow
Prevent unwanted moisture from collecting
Create appropriate ventilation throughout the space
EcoStar crews work to code and follow the manufacturer's specifications during all insulation installations. This is particularly vital with spray foam insulation, as the products are complex and the installation multifaceted. Spray foam insulation is a highly specialized application, and it calls for a high degree of experience. Whatever the project – from basement to attic insulation – EcoStar is focused on satisfying customer needs. In Toronto, spray foam insulation is available under several brand names, each meeting the National Building Code of Canada (and the Canadian Construction Material Centre). Today, more and more installers assert that spray foam insulation delivers the very best results in energy efficiency and home comfort. No other insulation product on the market can compare with spray foam insulation in terms of the long-term performance results.
With spray foam insulation, one application can do it all.
The space is sealed airtight
Spray foam insulation R-Values are installed at a high rating
Structural strength is provided wherever the product is installed
Spray foam insulation is a premium-priced product

Spray Foam Insulation R-Value And Energy Efficiency
R-value is a measurement of thermal resistance in any material. In the case of insulation, it is a measurement of a material's ability to resist heat flow.
When calculating the R-value of any insulation product, three main factors are in play:
the type of insulation used
its density
its thickness
Spray foam insulation is one of the highest R-Value per inch home insulation products on the market in Toronto. The R-Value of Insulation measures how quickly heat can escape through your home. Spray Foam Insulation is an excellent product for houses in cold climates because it forms an effective barrier against outside air infiltration, keeping your home warm in the winter and cooler in the summer.
Spray foam is very unique when it comes to R-Value levels. It offers one of the highest R-Value levels per installed inch than any other insulation option. On average, it has an R-Value average ranging from 6.5 to 8.0 per inch, which is significantly higher than other types of foam or fiberglass insulation. The problem is that most homeowners are not aware of this very high R-Value. Compared to fiberglass insulation, spray foam offers a higher R-Value per installed inch in the same thicknesses.
Traditional fiberglass insulation and blown-in insulation only offer R-Value levels of 3.5 per inch, with fiberglass batts insulation offering an average R-value of 2.9 per installed inch. Spray foam insulation, on the other hand, can provide r-value levels that significantly exceed these averages. This is because of its unique properties of expanding and filling nooks and crannies within walls and ceilings for an airtight, insulated seal.
In Conclusion, choosing spray foam insulation means you are getting the best bank for your buck!
The Cost Of Spray Foam Insulation
Spray foam insulation is one of the most effective types of insulation available. That's why it's commonly used in construction for roofs and in walls.
The cost of spray foam insulation installation will depend on:
Choosing open or closed-cell foam
Where you want insulation installed.
Open-cell foam has greater thermal performance per inch than closed-cell, averaging around 6-7 per installed inch, but it's also more expensive. On the other hand, Closed-cell foam is much cheaper but has a lower R-value of around 3.5 per installed inch. For every project, EcoStar recommends the product and installation that will deliver optimum performance. Installers are committed to superior workmanship, and every install is at the highest standard.
In an average-sized house where every room is insulated, you can save over $300 per year on energy costs. The significant energy savings (winter and summer) will often be enough to create a cost-effective "payback" period, giving the project a very favorable cost-benefit outcome. An experienced contractor will be able to provide advice on the best place to insulate in your home for maximum energy savings and implement the job efficiently.
Invest In Spray Foam Insulation Today
Spray Foam Insulation provides homeowners with energy-efficient homes. Our mission is to make every home warm and cozy in winter and nice and cool in summer with the help of spray foam insulation.
For the homeowner, manufacturer warranties assure product quality, while EcoStar's money-back guarantee ensures 100% customer satisfaction.
If you are ready to improve your home's energy efficiency and decrease your energy bills, contact EcoStar Insulation for a spray foam insulation quote today!