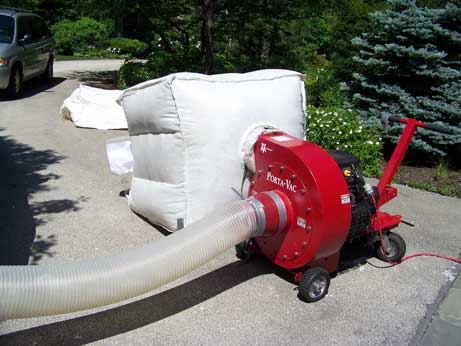 For Toronto homeowners considering insulation removal, there's likely a good reason behind it. And in some cases, it may have been recommended already. Hard to believe, but sometimes there is too much installed insulation, like in the attic – it restricts efficient airflow and prevents proper ventilation. In the basement, insulation removal may be required because of mold growth. The worst-case situation, of course, is to remove existing insulation because it was fabricated from harmful or hazardous materials (such as vermiculite or asbestos).
Insulation Removal During Renovations
Insulation removal is not uncommon during a renovation project or a retrofit. And while many homeowners opt to install new insulation right on top of the old insulation, complete removal is highly recommend during a retrofit, so that the insulation can be upgraded. Whatever the reason, it's absolutely critical to expedite insulation removal in a professional manner – it has to be done safely, using the proper tools and equipment, and without disturbing residents. The process of insulation removal is a "clean-up" procedure that must be done right.
At EcoStar Insulation, trained crews remove insulation in a highly professional way. They use specialized "vacuum" equipment; they discard waste through an exterior disposal method, and they leave no debris. This is the right way to expedite insulation removal. It allows for disposal of anything harmful, and it properly sets the stage for brand new insulation to be installed. With insulation removal, it's worth doing right the first time – it ensures the best possible conditions for sealing the space, installing new product, and creating ventilation.
Insulation Removal FAQ's
How much does it cost to remove attic insulation?
Naturally, this is a common question with a major project like insulation removal. The fact is, there are several variables – the size of the attic; the condition of the existing materials; and the type of product chosen for re-installation. At EcoStar Insulation, we'll start off with a FREE attic assessment to determine how best to remove and re-insulate. We'll also recommend the best product option based on your needs. Bottom line, your price will differ with the type of insulation product and with the installation approach. A product like spray foam insulation is a bigger investment.
Can a blown in insulation product be removed?
In a space like the attic, some insulation products are easier to remove than others. In many homes, the attic is insulated with blown-in fiberglass or blown-in insulation. This type of removal is easier than other insulation, but must be performed by a professional to ensure proper clean-up and proper disposal. Removing insulation rolls (or batts) can be more labour intensive, but here again it should be performed by a professional. The key is to ensure a comprehensive clean up of all residual materials. This will set the stage for an effective re-installation of new material.
Can new attic insulation be installed over old?
For many homeowners, a home renovation is the ideal time to remove old insulation and install new attic insulation. However, in many cases, new insulation product can be effectively installed over old insulation. The important thing is to make necessary repairs and retrofits prior to installing the new material. Simply "topping up" is not satisfactory – the attic space must be properly air-sealed and properly ventilated in order to create a complete "system". Professional insulation contractors will insist on this approach in order to guarantee the best performance for the new insulation.
How long does attic insulation typically last?
Older homes, with older insulation, may not have the same performance standards as today's new products. When professionally installed, most insulation (like fibreglass batts, blown-in cellulose, or spray foam) will have a satisfactory lifespan. But depending on the attic conditions, time can take a toll on insulation performance. There are a number of factors that could affect longevity – quality of the insulation product; standard of the original installation; damage from moisture, mold, or rodents; and even natural settling of the product over a long period of time.
How can attic insulation be removed safely?
The best approach for insulation removal is to work with a professional. At EcoStar Insulation, in house experts have the experience to remove insulation safely and effectively. In some situations, homeowners might be tempted by a DIY approach, and could save some money in the short run. But the potential risks just aren't worthwhile (with hazards like asbestos or mold). Insulation removal needs to be done right – with the proper tools and equipment, and without disruption to the occupants. EcoStar does it from start to finish – from complete clean up to exterior disposal.
Is it OK to be touching fibreglass insulation?
With any insulation product, particularly fiberglass, protective gear should be worn – it's just another reason to leave this work for a professional. Fibreglass is actually made of thousands of small glass shards, and these can easily touch your skin, your face, and your eyes. Getting stung by fibreglass shards causes burning and itching. The good news is that minor irritation will go away fairly quickly – the bad news is that serious irritation could be painful and long lasting. The professional way to handle fibreglass, whether removing or installing, is to wear protective gear.
Is fibreglass insulation dangerous in any way?
Probably the most dangerous thing about fiberglass insulation is breathing in the fibres. When fiberglass fibres are released into the air, for any reason, there is potential for those fibres to be inhaled. For someone without the proper experience, this type of exposure can create respiratory problems. Here again, the DIY approach for removal or installation is discouraged. Professionals have the suitable Personal Protective Equipment – properly fitted eyewear; heavy-duty gloves; dust mask/respirator; appropriate loose-fitting clothing; and head covering to protect hair.
Leaving Removal Work to the Professionals
For the average homeowner in Toronto, the idea of do-it-yourself insulation removal may well be attractive. But without doubt, this is work that's best left to professionals. The work is extremely laborious and time-consuming – in fact, it could take double the time of a professional. As for the risks, there are health hazards and contamination dangers. Beyond that, there may be animal remains, mold deposits, even vermiculite or asbestos. Simply put, insulation removal is a project best left to experts like EcoStar, with the experience and know-how.
To be sure, insulation removal is only part of the complete job. Post-removal, the space needs to be properly prepared for re-insulating. There may be a need for an air barrier or vapour barrier. There may be additional need to install better ventilation. And most importantly, there may be a need to effectively seal the space. For EcoStar Insulation, professional insulation removal is the first step in improving and upgrading energy efficiency – with better airflow management, better moisture control, and far better thermal insulation (the R-Values).
For EcoStar, the focus is always on satisfying homeowner needs, whether it's for attic insulation or basement insulation, and regardless of the size or scope of the project. EcoStar is committed to the highest standard of workmanship – with product warranties that are sound, and a spray foam insulation company that guarantees on the installation work. Whether it's installation or removal, the EcoStar team will ensure a level of service that delivers 100% customer satisfaction. It's simply about doing the job right the first time around