Spray foam insulation is one of the most effective insulation choices available on the market in the Greater Toronto Area and Canada. When installed correctly, high-quality building insulation enables energy efficiency and cost-savings that last years, even decades. EcoStar Insulation is a certified supplier and installer of spray foam for attics, building envelopes, basements, and crawl spaces. With premium materials and expert teams available, we offer a few estimate processes and pricing options, so you can see how spray foam costs fit into your budget.
We pride ourselves on great value for high-quality products and responsive customer service. At EcoStar Insulation, all our spray foam insulation cost estimates are free.
Over-the-Phone Insulation Estimates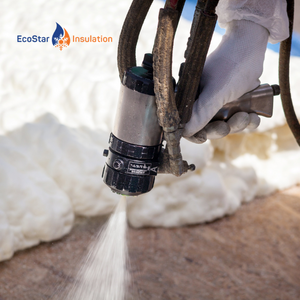 If you're looking for an idea of how much spray foam insulation will cost you for your particular property, EcoStar Insulation offers easy and convenient over-the-phone estimates. During phone estimates, you can share the details of your project with us, and we'll give you a competitive quote for spray foam insulation costs. Phone estimates are free, easy, and convenient, perfect for those who need a quote fast.
On-Site Estimates
Our team of spray foam insulation experts will arrive on-site, where we will measure and assess the current needs of your property, working with you and your project managers to determine the best spray foam insulation solutions. Based on what you want and the Ontario building code, the EcoStar Insulation team will find a solution that makes sense for your budget and project. Following an on-site estimate, you will receive a quote within two days.
Drawing-Based Estimates
A third spray foam cost estimate option from EcoStar is a drawing-based estimate. This option is great for contractors and commercial property owners but is available to residential property owners as well. You can submit drawings directly to the EcoStar Insulation team, along with details about your project. We will follow up with a quote for spray foam insulation installation based on your shared blueprints.
Factors that Affect Spray Foam Insulation Costs
There is no set price for spray foam insulation installation. Various factors will determine the cost of the material and insulation, including the material price, the size of your building, the complexities of the structure, and the thickness of the insulation.
There are multiple types of spray foam insulation available on the market that vary in R-Value and longevity. Your cost will depend on which spray foam insulation material you choose. If you're unfamiliar with spray foam insulation, the experts at EcoStar Insulation will help you determine the best match for your project.
Spray foam insulation costs are dependent on how many inches of insulation is installed. The thicker the layers, the more your insulation will cost, but the more energy-efficient it will be, saving you energy costs in the long run. At EcoStar Insulation, we will typically install anywhere from 1 inch to 10 inches, depending on your space.
The Value of Spray Foam Insulation & EcoStar Insulation
EcoStar is a leading supplier of high-quality insulation in the Greater Toronto Area and elsewhere in Ontario. Our team is trained and certified, delivering a premium installation that lasts a lifetime. We offer competitive pricing and warranty on workmanship, so you can be confident that we will meet the highest industry standards.