What Material To Use When Insulating The Basement
Do you think insulating your basement will make it a more useful space?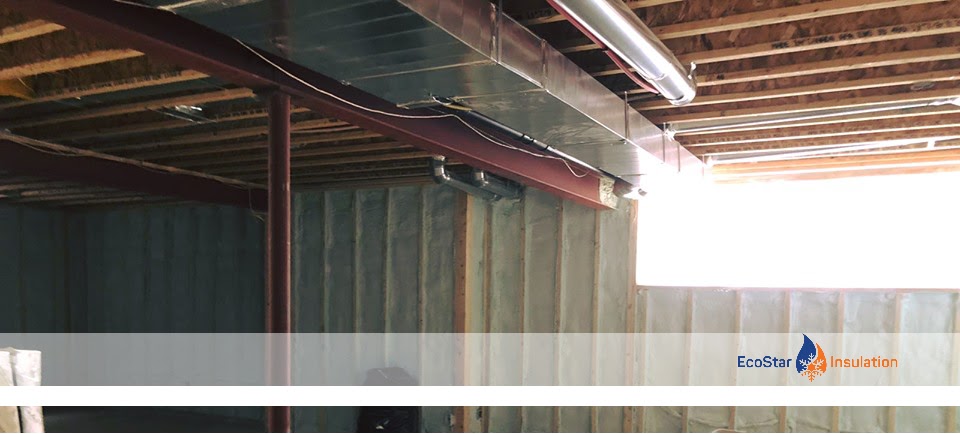 Most property owners choose to insulate their properties to make them a more comfortable place to spend time on. If you want your basement to be a better place for your kids to play, a comfortable work out area, office or even home theater then you should consider insulating it first. Leaving the basement uninsulated allows the air to get into the rim joist, ceiling, and walls. Insulation will not only make a more functional basement but will also significantly improve the comfort of other areas in the house such as the space above.
Ecostar Insulation has more than 10 years of experience insulating homes from top to bottom. If you want to make your basement a better place, we can help find the appropriate solution for you. There is no doubt that insulating the basement is a necessity in Ontario and in this article, we are going to discuss the best material for insulation. Most common materials used for insulation are spray foam, fiberglass, and foam board. Let's analyze the three options.
Basement Foam Board Insulation
What Is Foam Board Insulation?
Foam board insulations are insulation panels made of polystyrene, polyisocyanurate, or polyurethane. Foam boards can be used to insulate any part of the property. It can also be installed in the open cavities of your pole barn. These insulation boards come in different thicknesses, lengths, and facings so the installer can fit it in the area. Foam board insulation provides good thermal resistance and reduces heat conduction through structural elements, such as wood and steel studs.
Pros
Some rigid foam products are water-resistant that can help limit moisture buildup and mildew growth.
If foam board insulation is installed properly, the rigid material can create an air barrier.
Some foam board materials are long term and there is no need to maintain or replace them over time.
Cons
The foam boards won't provide airflow if not taped properly.
There is a risk for the air bubbles inside the foam boards to accumulate moisture and become ineffective.
The foam boards have to be cut precisely to fit the area so it can be properly installed. If the boards are not cut properly, then air leakage could occur.
Basement Fiberglass Insulation
Fiberglass consists of extremely thin glass fibers. Mostly we find it as batts, rolls blanket and loose fill. It is also found as rigid boards and duct insulation. Currently, it is produced as a medium and high-density fiberglass batt insulation with a higher R-Value than standard batt. Fiberglass can be placed in unfinished walls, floors, and ceilings. By trapping pockets of air, fiberglass as an insulator slows the spread of heat, cold, and sound in structures. This makes the rooms warm in the winter and cooler in the summer.
Pros
Fiberglass is cheaper compared to other basement insulation options.
If you are planning to renovate the basement yourself, you can install fiberglass as a DIY project.
Cons
Using fiberglass in the basement does not provide a barrier for moisture.
Because fiberglass batts are air permeable, it doesn't protect your house from warm and humid interior air from contacting the surface of the wood studs in the basement.
It may lead to condensation and moisture issues.
If disturbed, it can release particulates into the air which can penetrate the skin or enter the airways.
Basement Spray Foam Insulation
Polyurethane foam is the preferred choice among general contractors and homeowners. Most newer homes are insulated with spray foam for its energy efficiency and comfort benefits. Homeowners are using spray foam to retrofit their attics, walls, and crawl spaces to fix uncomfortable room issues and at the same time save money on energy bills. Spray foam also performs well on pole barns.
Spray foam insulation is a type of insulation and air barrier material that seals walls, floors and ceiling cavities against air movement. This includes spaces around electrical outlets and light fixtures, and also where walls meet windows and doors. Spray foam can be sprayed in the attic, crawl spaces, exterior walls, floors, garage, basement, cathedral ceilings and rim joists. Unlike other types of insulation materials, spray foam never loses its shape, fills the cracks and crevices on installation and provides structural strength. It won't compress, sag or settle over time.
How Spray Foam Insulation Works
There are 2 types of spray foam:
Open cell spray foam
Closed cell spray foam
Both open cell and closed cell spray foam insulate your home while creating an air seal. The insulation has benefits like sound control, deterring mold growth, and reducing airflow while stopping drafts and cold floors. It can also help decrease your monthly energy bills. Spray foam insulation impacts the conduction and convection, which will affect your home's comfort and energy efficiency. It keeps your house warm in winter and cool in the summer. Air leakage is a serious problem for many homes in the GTA and this contributes to the home's energy loss. Open cell spray foam insulation can expand up to 100 times and this is how it fills every nook and cranny in the cavity. With traditional insulation – fiberglass and cellulose – spaces and gaps that aren't filled can leak air. Spray foam keeps the draft out and gives you an energy efficient home.
What Is Spray Foam Insulation Made Of?
Spray foam is made from the combination of two liquids that cause a chemical reaction and form the spray polyurethane foam. The two liquids come in different drums or containers and contractors usually refer to the containers as the "A" and "B" side, according to the website Spraypolyurethane.org. The "A" side of a spray polyurethane system is usually made up of methylene diphenyl diisocyanate (MDI) and polymeric methylene diphenyl diisocyanate (pMDI). The "B" side is typically a blend of polyols, catalysts, blowing agents, flame retardants, and surfactants, according to the website. A reaction happens when the "B" side is introduced to the "A". This reaction creates foam.
Pros
Spray foam insulation prevents the growth of mold or mildew.
Spray foam creates an air seal that does not allow the outside air to get inside.
Open cell spray foam prevents noise from traveling within the house.
Spray foam is environmentally safe and Greenguard Gold Certified.
Cons
Spray foam insulation will cost you more than other types of insulation.
It requires certified professionals to be applied.
INSULATION MATERIALS OVERVIEW TABLE
It is important to create an air seal in your basement to help avoid moisture issues and to create a comfortable space. It will definitely make for a cozy place when watching the Raptors games. If you want to experience the benefits of spray foam insulation in your basement and live in Toronto, give us a call HERE or fill out the form on our website to schedule a free estimate.