High-Quality Polyurethane Slab Jacking In Toronto
Concrete leveling solutions for your home and business.
Got a sagging sidewalk or a dip in your driveway? Don't let sinking concrete sink your curb appeal. There is an unintrusive, fast and permanent solution with Polyurethane Slab Jacking. When concrete sinks, it can cause more than just an eyesore. Uneven concrete slabs, patios, walkways, driveways, or concrete steps can become a dangerous tripping or slipping hazard. Sunken concrete can also cause water to drain towards your home or business causing further erosion to your subgrade or even causing basement leaks and costly restorations.
Polyurethane slab jacking, also called poly-lifting or poly-jacking, is an environmentally friendly, and cost-effective alternative to replacing concrete or conventional 'Mud-jacking'. Protect your home's beauty, structure and value. Request a quote today.
What Is Polyurethane Concrete Lifting?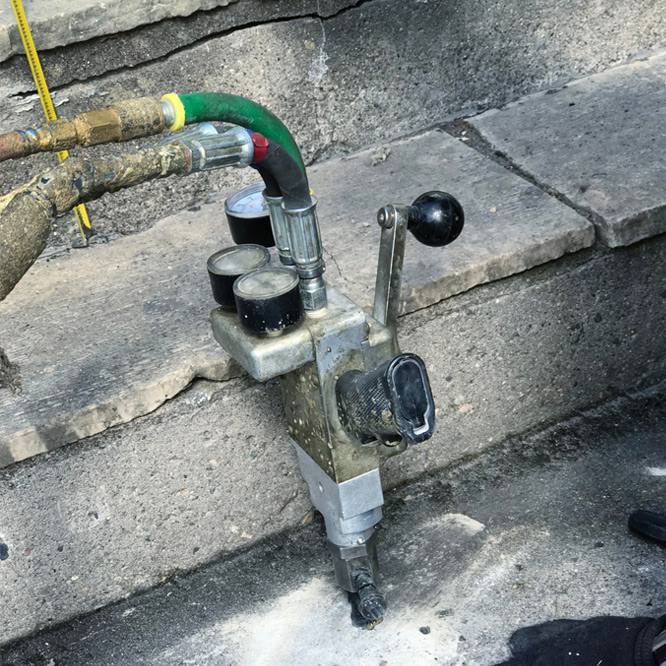 The Polyurethane concrete lifting isa unique and innovative way of thickening and lifting concrete slabs. It works by lifting the concrete slab, filling in cracks and voids, stabilizing soils and sub-slab areas, reducing foundation movement, deflecting moisture, and extending the life of your foundation.
Polyurethane is injected into the concrete, then an expansion foam is inserted into the small injection holes. This process loosens and lifts the sunken concrete, and fills the void. Polyurethane concrete lifting can be applied to driveways, sidewalks, basements, patios, and foundations.
Polyurethane concrete raising achieves the same results as traditional mudjacking, but with a lightweight material that requires smaller and less injection holes.
Benefits of Slab Jacking
Cost Of Slab Replacement Is Expected To Be Reduced By 55-70%
Smaller Holes Than Traditional Mudjacking.
Less Noise And Disruption Than Traditional Mudjacking
Clean – No "Mud", No "Water".
Quick Curing Times Can Be Used Within 20 Mins
Eliminates Tripping Hazards (Eliminate Liabilities).
This Process Can Extend The Service Life Of Your Concrete Slab.
Provides For Excellent Under Slab Insulation.
5/8" Acces Points Are Easily Sealed After Injection
Long Term Durability.
Will Not Wash Waya, Shrink Or Settle By Water.
The Lifting Process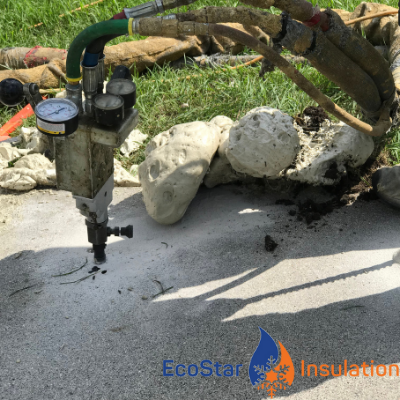 A scan onsite of the area is completed prior to completing any work to identify any hazards including utility locations.
After the area has been scanned for hazards and appropriately marked, it is safe to drill various access points within the affected areas. Thes points are ⅝" drill holes which we use to inject polyurethane foam under the concrete.
Intentionally designed ports connect to the small access drill holes to assist in the injection of polyurethane foam.
Once the polyurethane foam is injected into the ports it expands within the soil base. The foam expands to stabilize the weak soil and expands to fill any subsurface voids.
Our team carefully supervises this process to ensure an effective and safe concrete lift. Once your sunken or damaged concrete has been stabilized and levels from the expended polyurethane foam, the access ports are removed, the access points are patched and your area is now ready to be used.
Where Can Polyurethane Concrete Lifting Benefit You?
Residential
We can lift, level or stabilize almost all the concrete around your home.
Driveways
Pool Decks
Patios
Walkways
Landscaping Slabs
Garage Pads
Sidewalks
Shop Floors
Basement Floors
Poured-In-Place, Formed Concrete Steps
Any Slab-On-Grade
Commercial, Agricultural & Industrial
Don't waste time with time-consuming and expensive concrete levelling solutions. Slab Jacking is the perfect choice for commercial applications.
Barn or Shop Floors
Joint Stabilization Void Filling
Warehouse Slabs
Wheelchair Access Ramps
Office & Retail Floors Gymnasium & Classroom
Concrete Floor Panels
Railroad Approach
Grain Bin Floors
Machine Stabilization
Floors
Airport Runways & Tarmacs
Industrial Plant Slabs
Municipal
The maintenance of our public walkways and roads is a vital factor in public safety. Concrete Foam lifting can help to level concrete quickly and efficiently.
Rocking Floor Panels
Soil Stabilization
City Sidewalks
Abandoned Culverts, Pipes, and Ducts
Erosion Control
Wash-Outs & Sink Holes
Settled Concrete Roads, Highways, Runways, Tarmacs
City Roads
Settled Bridge Approach Concrete Slabs
Construction Over Perma-Frost
There are some instances where the concrete cannot be lifted. Slabs with excessive cracking, flailing pieces of concrete that have broken away from slab, structural slabs with helical piles, precast stairs, paving stones are some examples where our system will not work.
Please contact one of our professionals today and we will help determine your best course of action.
Mudjacking VS. Polyurethane Concrete Lifting
Polyurethane concrete lifting is a great alternative to mud jacking. Polyurethane concrete lifting does not use mud but lightweight material that effectively lifts and levels concrete floors. Unlike Mudjacking, which is messy and has to be taken up after the job is complete, polyurethane works for the entire lifetime of the floor.
By using polyurethane foam, the standard concrete lifting process is made easier and faster. With smaller holes, less material, and no need for steel reinforcing mesh, Polyurethane concrete lifting is the leading solution to sinking and settling concrete.
Slab Jacking & Slab Leveling in Toronto
Securing top-quality Toronto polyurethane slabjacking services is as easy as calling EcoStar Insulation. We provide a wide range of residential and commercial services. When repairing sinking concrete, we can get your project completed quickly and professionally.
Our state-of-the-art equipment will allow for your sinking concrete repairs to be completed with ease. Contact EcoStar today for more information about our Slab jacking services in Toronto or to schedule an appointment for your sinking concrete repairs in Toronto.