Why Incorporate Attic Insulation Into Your Retrofit Plans
The cosmetic side of renovations is undoubtedly more exciting than the practical studs-and-drywall end — but adding attic insulation in Toronto can increase the longevity, value, and usability of your next home improvement or expansion. At EcoStar Insulation, we specialize in helping families improve their energy efficiency, air quality, and indoor environment through cost-effective improvements like blown in insulation or spray foam insulation. If you're considering renovating your home this spring, here are a few reasons our team thinks you should add insulation to the to-do list.
Energy Efficiency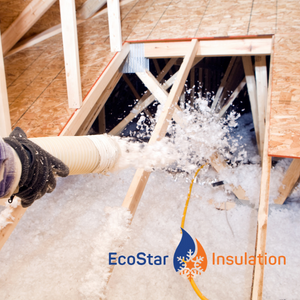 It's no secret that the costs to heat and cool our homes are growing yearly, making energy efficiency a hot topic. Attic insulation in Toronto is one of the best weapons for preventing heat loss and reducing your monthly utility bills. Insulation up top acts like a hat for your home — it's the all-Canadian toque in the winter months, keeping a lid on the heat. During the summer, it's like a ball cap that shades you from the heat. Keeping the heat out (or in, depending on the season!) helps your HVAC system run for fewer hours as you keep the temperature balanced.
Improved Indoor Air Quality
One of the most significant issues in attics across the GTA is moisture. Moisture can enter the attic in several ways, such as roof leaks, shingle damage, humidity, and pests. Once water gets into the attic, it can be the catalyst for mold growth and infestations that cause decreased indoor air quality and severely damage insulation. Compromised insulation can't do its job and becomes less efficient.
Increased Property Value
New blown in insulation or spray foam insulation is a great sign if you're renovating to sell or looking at a brand-new home. Fresh, modern insulation checks a big box on the dream-house wish list for the EcoStar team — it points to a home that's well cared for, has good air quality, and is well protected against the elements. New insulation helps to increase property value and makes homes move-in ready.
Noise Reduction
A benefit of adding new attic insulation to your home is that it gets quieter and more restful. Insulation, especially modern types like spray foam insulation, help insulate from sound and temperature. If you live near a noisy street or highway, insulation can help reduce background sounds and help you relax comfortably indoors.
Environmental Responsibility
A major perk to adding new attic insulation is decreasing your home's environmental footprint by reducing your energy needs! Not only do you save money, but you waste less energy too.
How To Choose the Best Attic Insulation in Toronto
The pros at EcoStar know that the 'best' insulation is the one that suits your home's needs and your energy efficiency goals. Whether the environmentally friendly blown-in insulation (made from recycled materials) or the modern spray foam insulation (which has excellent flexibility and R-values), new attic insulation in Toronto is a cost-saving long-term renovation you won't regret. To learn more about adding new insulation, from spray foam insulation costs to blown-in insulation R-Values, call the EcoStar Insulation team for professional advice and guidance.