Upgrade Your Home Efficiency with Attic Insulation
For homeowners considering attic insulation in Toronto, choosing a high performance product can make a big difference in both winter and summer. To begin with, a well insulated home is more energy efficient. And energy efficiency means lower energy costs. As well, the home is more comfortable season to season. And finally, the HVAC system operates much more efficiently.
Boost Your Home Energy Efficiency with Quality Insulation for Your Attic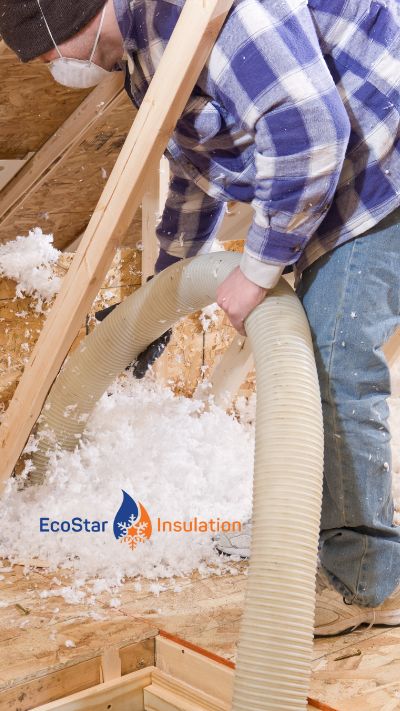 Many homes waste heating and air conditioning through air leakage and poor insulation. With air leakage, especially through the roof and attic, warm indoor air leaks out in winter, and warm outdoor air creeps in during summer. As an antidote, spray foam insulation is very effective. For homeowners considering attic insulation in Toronto, spray foam may be the very best remedy.
Efficient home design goes beyond walls and doors. Certain areas such as crawl spaces, attics and basements contribute to the functionality and efficiency of the home but this is all dependent on the insulation properties of the dwelling. Old, poor quality and non-functioning attic insulation in Toronto homes can cause irregularities in airflow are a major cause of increased energy consumption, reduced air quality and a decreased quality of life for the residents. Insulation that is not replaced or upgraded will end up costing homeowners more in time and money.
Installing Spray Foam Insulation in the Attic and Roof
For attic insulation in Toronto, the professionals at EcoStar Insulation often recommend a high performance spray foam product. It's an application that ensures air tightness, moisture control, and thermal integrity all at one time. Spray foam insulation is considered the best return-on-investment when compared to other installation. But it must be professionally installed.
With spray foam, a home becomes substantively more energy efficient, reducing heating and cooling costs very significantly. The annual savings can actually "pay down" much of the original spray foam insulation cost. But the benefits of spray foam go much further. Air circulation is improved. Air quality is enhanced. And air moisture is more controlled, preventing unwanted accumulation.
The Benefits of Spray Foam Insulation are Long-Term
EcoStar highly recommends spray foam insulation for attic insulation in Toronto and throughout the GTA. With an expert installation, there is nothing that seals and insulates better than spray foam. It completely eliminates the need for a freestanding vapour barrier; prevents undesirable air movement throughout the attic space; and prevents unwanted moisture from accumulating.
Spray foam insulation will deliver homeowner benefits for years to come. With the home being better insulated, the HVAC system (heating and cooling) will operate far more efficiently. More than that, far less energy will be used during the winter and summer. Best of all, many EcoStar customers find that the seasonal savings on utilities can offset the original installation cost.
Attic insulation in Toronto area homes might need replacement
Toronto's more established neighbourhoods have homes that have been standing for over 40 years and most have old type fiberglass insulation that was the mainstay of developers at the time. The fibrous nature of the this type of insulation makes it prone to damage through moisture and age. Breakdowns of this type of product is hazardous as fibers could easily be realized into the home's air while also created holes and spaces for outside elements to enter. Older homes with traditional attics and crawlspaces would benefit from a complete upgrade to spray foam insulation. Spray foam's pliable nature and method of install makes sure that all areas are fully covered and totally insulated from the outside.
Save money in the short and long term with an insulation upgrade
Attics provide an excellent addition to homes by increasing storage space and in some instances, increasingly living space. Unfortunately, attics that are not maintained will decrease the home's efficiency while increasing energy consumption considerably. HVAC systems will have to work much harder to maintain desired temperatures through the entire home as warm or cool air will escape through broken insulation. Worn out and faulty attic insulation in Toronto homes could also cause structural damage and health concerns as mold could develop quickly in moisture prone areas. Installing spray foam insulation ensures a tight seal between the inside of the home and outside elements which will save owners money on repairs and utility spending.
Make your space more livable
Areas in the home such as crawlspaces, basements and attics see very little foot traffic and could become neglected if not checked regularly. Typically, attics are left in an unfinished state with little to no proper insulation material. These areas become a haven for animals and insects looking to get inside which can cause havoc and decrease the quality of life in the home. Not only can living things enter, but sound that enters holes in attic will be echoed throughout the home causing a more stressful environment. Upgrading and replacing attic insulation in Toronto by a company such as EcoStar will create a durable barrier between outside elements and will prevent moisture from creating mold that will affect interior air quality.