Why Consider Upgrading Your Attic Insulation in Toronto in 2023?
Having adequate attic insulation in Toronto is crucial to any building. It helps regulate indoor temperatures all year long and maintains energy efficiency. However, attic insulation can lose efficacy after some time, and you'll feel the results in your home and your wallet. To help you maintain your home, EcoStar Insulation offers a range of high-quality materials, from spray foam to blown in insulation.
Here's why you should consider upgrading your attic insulation in 2023:
Risk of Contamination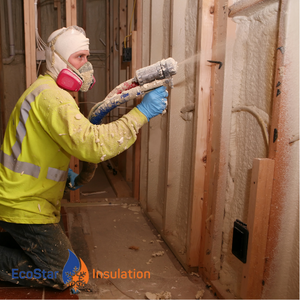 As the years go by, your attic insulation is exposed to a long list of contaminants that can affect the quality of your home's attic insulation. Even just water can lead to mold in your attic, which would, in turn, affect the air quality of your whole building. As most homeowners know, dealing with mold can be a big undertaking. It takes lots of time and money to get mold contamination under control, and it can pose a severe health risk to those living in the home. By addressing these concerns early, you avoid the hassle, excessive costs and health risks associated with mold in your attic insulation.
The Age of Your Insulation
Unfortunately, attic insulation in Toronto doesn't last forever. Most attic insulation will lose its efficiency in about 20 years. After attic insulation has passed its prime, it can no longer regulate temperature as it should. You may find that it takes more work for your heater to warm up the home or that you're spending more on air conditioning in the summer. That's why it's essential to know your home's history, especially if you weren't there for the last attic insulation installation. If you're unsure how old your insulation is, contact a specialist at EcoStar Insulation to guide you through your insulation concerns.
Reduced Costs
Believe it or not, high-quality insulation, like blown in insulation, can save you money in the long run. Without high-performing insulation, your home's temperature regulation will suffer. That means an added strain on your heating and air conditioning appliances. With quality insulation, your home can properly manage hot and cold air by keeping hot air in during the winter and out during the summer, which does less work for your appliances.
Eliminate Frequent HVAC Maintenance
Naturally, the more strain you put on your heating or cooling appliances, the more it will cut into the lifespan of your HVAC system. Suppose the heat constantly leaves your home in the winter due to faulty insulation. In that case, your heater will have to work overtime to maintain a reasonable temperature in your home. Similarly, if hot air penetrates your home in the summer, your air conditioner will have to work extra hard to produce conditioned air. To avoid frequent repairs or replacements, it's best to invest in attic insulation that will effectively regulate your home's climate.
Expert Attic Insulation in Toronto
The professionals at EcoStar can ensure your home has even temperature distribution, a functioning HVAC system, and energy efficiency with high-quality attic insulation installation.