Where Blown-In Insulation Can Be Installed?
Whether you're a residential property owner or a commercial property owner, energy efficiency is a key player for energy efficiency, indoor comfort, and indoor air quality. When insulation is left to become contaminated or decay over time it cannot protect a property from hazards or fluctuating temperatures which can cause costs to skyrocket overtime. With several types of insulation available including spray foam insulation, blown-in insulation in Toronto has become increasingly popular due to its accessibility, affordability, and its exceptional effectiveness as an insulator. At EcoStar Insulation, our technicians provide high-quality insulation materials including spray foam insulation and blown-in cellulose, and offer expert installation.
Read on to learn more about where you should have blown-in insulation installed.
Why Blown-In Cellulose Insulation is Beneficial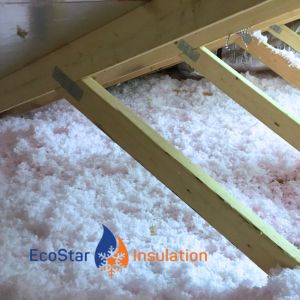 Made of recycled materials, blown-in insulation is a sustainable and eco-friendly alternative to traditional or chemical-heavy insulation materials. Blown-in cellulose insulation has become a popular choice for local property owners for many reasons including its affordability and superior insulation qualities. The flexibility of blown-in insulation in Toronto allows for flexibility during installation for even distribution and tighter air seals, which ultimately reduces energy costs, drafts, and contaminants.
The Importance of Good R-Value
R-value refers to the resistance of a material to heat flow, and the higher the R-value, the better the insulation. For blown-in insulation installation to be successful, minimum recommended R-values are important for long-term and successful energy efficiency. The recommendations for attic insulation Toronto is between R-50 and R-60, while the recommendations for walls are at least R-20.
Where You Should Have Blown-In Insulation Installed?
While blown-in insulation can be installed in a variety of areas throughout a home or commercial property to maximize energy efficiency, but by far the most common and effective use for blown-in insulation is attic insulation Toronto. Because attics are a significant source of heat loss, blown-in cellulose insulation installation in the attic alone has a monumental impact on energy efficiency, Blown-in insulation can also be installed in walls, floors, and crawl spaces to help reduce energy costs and improve indoor comfort.
How to Find an Insulation Company
When it comes to finding an insulation company to install blown-in insulation in Toronto, it is essential to look for a company that has experience installing blown-in insulation and has a good reputation in the community. EcoStar Insulation is a leading supplier and installer of blown-in insulation in the Greater Toronto Area. We use the best quality materials to ensure long-lasting results.
Upgrade Your Insulation with EcoStar Insulation
Blown-in insulation in Toronto is an effective and affordable way to improve the energy efficiency of your home. With its ability to reduce energy costs and improve indoor air quality, blown-in cellulose insulation is an excellent choice for homeowners looking to make their homes more eco-friendly and sustainable. It is important to ensure that the R-value meets recommended levels and that the insulation is installed by a reputable and qualified insulation company. By following these tips, you can ensure that your home is properly insulated and comfortable year-round.