How the Home Energy Loan Program Enables Savings with Attic Insulation in Toronto
Have you been putting off new attic insulation in Toronto due to financial reasons? Look no further than the Home Energy Loan Program (HELP). HELP is a new loan program provided by the city of Toronto that allows you to finance your home's energy improvements while saving you money on utilities. If you've been meaning to blown in attic insulation, fireproofing, or roofing spray foam now is the time! EcoStar has everything you need to ensure professional installation at a cost that won't break your budget.
Continue reading to learn more about the HELP program and how you can start saving with attic insulation in Toronto.
What is the HELP Program?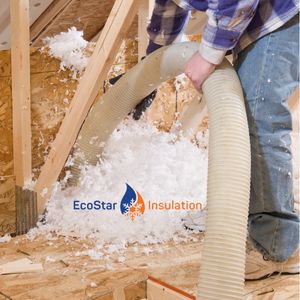 The HELP program provides Toronto homeowners with low-interest loans to improve their home energy efficiency. Typically referred to as retrofits, these home improvements can significantly reduce your energy bills, allow you to live more comfortably, and reduce greenhouse gasses that drastically contribute to climate change. For those who have struggled throughout the ongoing pandemic, this program offers assistance to the many people who aren't able to finance upfront home improvements such as attic insulation, spray foam insulation, blown in insulation, or insulation removal.
Why Retrofit Your Attic Insulation?
When you retrofit your attic insulation in Toronto, it offers many benefits not only to your health but your wallet. When you significantly increase the energy efficiency in your home, you are secured against energy costs rising. With adequate attic insulation, HELP participants decrease their energy consumption by 25% on average. This allows homeowners to save approximately $800 annually on energy bills with up to $2750 in incentives.
How Upgrading Attic Insulation in Toronto Saves Costs?
When insulation is old, damaged, or overfilled, it is not working efficiently, causing your HVAC system to overwork. Overworking your heating and cooling system can cause it to break down or malfunction. When your HVAC system is broken or damaged, it can be costly to replace them. Our team at EcoStar uses effective blown in attic insulation so your air conditioning system can run smoothly, saving you money on utility bills.
When to Install New Attic Insulation?
Have you noticed that your home is more humid than usual? Or that your upstairs bedrooms are warmer than downstairs? When insulation isn't effective, moisture from everyday activities can rise to your attic, and with poor ventilation, it has no place to escape. When attic insulation is old or too much isn't installed correctly, mold can quickly grow. These issues are not only costly when left untreated, but they are detrimental to you and your family's health. Allergy-like symptoms are among the most common side effects of mold exposure. In severe cases, mold spores in your home can cause serious respiratory issues that should not be dismissed.
Choose an Attic Insulation Company in Toronto
When choosing an attic insulation company in Toronto, you want experts that you can trust. With EcoStar, we offer affordable and upfront pricing, excellent customer service, and outstanding results that will leave you feeling comfortable at home.
Contact us today to learn more about attic insulation!