Benefits of Waterproof Attic Insulation in Toronto
Attics are the forgotten space between the main living room area and the roof. The attics are integral to keeping the home comfortable throughout different seasons. Therefore, attic insulation in Toronto is crucial to help keep your home temperatures in check while maintaining energy-efficiency. There are various types of attic insulation, some of the best include blown-in cellulose insulation and spray foam insulation. To learn about the best attic insulation options in Toronto, reach out to the EcoStar Insulation team.
While installing waterproof attic insulation can help protect your home from outside temperature variations, several contaminants affect the attic insulation's performance. These contaminants include high humidity levels (moisture) and poor ventilation. Therefore, you should seek to strike a perfect balance within the attic to ensure that humid air can escape avoiding damaging the attic insulation and mold growth.
How Moisture Gets into the Attic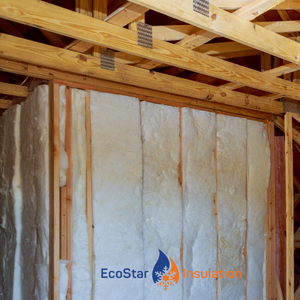 Moisture can significantly impair the performance of your attic insulation. Let's find out how it can find its way to the attic.
Roof leaks: The first evidence will appear in the attic when there's a roof leakage.
Foundations or basements: Basements usually have high humidity, and water on the ground can easily find its way up the building through the walls. The water evaporates into the air and travels to your home's attic through any bypasses in the room.
Pipes: When pipes running through the attic leak or sweat, they release moisture into the attic. Therefore, you should constantly check them or call professional insulation companies like EcoStar.
What Happens to Wet Attic Insulation
When attic insulation gets wet, it loses its functionality, like inhibiting thermal transfer. Also, mold growth is another issue that arises. Some outdated types of attic insulation in Toronto are designed to trap airborne mold and dust. When the insulation gets moist, mold will grow and spread to further spots in the attic. Eventually, it will cause significant decay. Therefore, it's crucial to call for attic insulation services in Toronto to prevent costly damage from wet insulation.
How Spray Foam Insulation Keeps Moisture Out
As initially stated, spray foam is one type of attic insulation. It's one of the most effective attic insulation approaches, thanks to its ability to seal spaces and a vapor barrier. The vapour barrier retards water diffusion through the attic material, keeping it moisture-free.
Benefits of Spray Foam Insulation
Spray foam insulation delivers numerous benefits to homeowners thanks to its desirable properties, such as water resistance. The following are some benefits of this attic insulation option:
Prevents moisture from entering the attic
Improves indoor air quality
Reduces energy consumption as it maintains conditioned air within the room.
Prevents mold growth
It's easy to install
It's durable
Why Choose EcoStar Insulation?
Looking for attic insulation in Toronto? Well, EcoStar Insulation has got your back. With over a decade of experience in attic insulation, our spray foam insulation services are the best in the market. EcoStar installers are thoroughly trained with exceptional expertise in installation and the product.
Contact us today for the best spray foam insulation services in Toronto.