Benefits of an Air Tight Seal with Attic Insulation in Toronto
Having high-quality attic insulation is incredibly important, especially during the cold winter months. However, in addition to installing effective attic insulation in Toronto homes, your attic must have a tight air seal. With good insulation and a tight air seal, you'll save money on energy costs, ensure indoor comfort, and increase the longevity of your attic insulation. If you think it's time to upgrade your insulation and want to learn more about blown-in insulation and spray foam insulation costs, contact EcoStar Insulation for an estimate.
Here's what you need to know about having a tight air seal in your attic.
What's The Problem With Air Infiltration?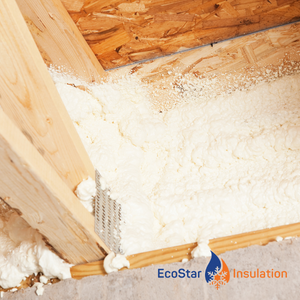 Without a tight air seal, air will infiltrate your attic and cause many problems. For instance, it will cause an increase in moisture, which will increase the likelihood of mold infestations throughout your attic. Additionally, it will make your home drafty, no matter how often you turn on the heat or air conditioning. This will make it challenging to keep your home at a consistent and comfortable temperature. And, because of drafts, your energy bills will be higher, making your home less energy efficient. If your home has become cool and drafty this winter, you may require an upgrade for your attic insulation in Toronto. For effective insulation that will seal your attic, contact EcoStar Insulation to learn about blown-in insulation spray foam insulation costs and benefits.
How Air Leaks Occur
Air leaks in your attic often occur due to openings in the roof cavity. However, air leaks may also happen due to roof deterioration, an air duct with a crack in the seam, or even a minor opening around a pipe. No matter how an air leak occurs, it will seriously affect your home's energy efficiency and indoor temperature.
Benefits of Air Ventilation
While they may sound similar, air ventilation and air infiltration are different notions. Having adequate air ventilation doesn't mean that your home is completely sealed; it means that air infiltration and leakage have been minimized significantly. When air ventilation is managed, it will ensure that your home environment is safe, healthy, and comfortable. Other benefits of adequate air ventilation include protecting your roof and insulation from deterioration, less heat and moisture buildup, and improved insulation efficacy.
Benefits of Spray Foam Insulation
When upgrading your attic insulation and wanting to ensure a tight air seal in your attic, look no further than spray foam insulation. Spray foam insulation from EcoStar Insulation covers the entire area, providing a tight air seal in your attic. Spray foam insulation prevents water and air leaks that allow for mold infestations, helps lower your utility bills, makes your home more energy efficient, and has a long lifespan. Spray foam insulation is durable and long-lasting, with a typical lifespan of 80 years. With spray foam insulation from EcoStar Insulation, you'll only have to install it once in a lifetime.
Choose the Best Attic Insulation in Toronto
EcoStar Insulation is your trusted provider of high-quality insulation, expert installation, and budget-friendly options. If you're looking to install attic insulation to make your home comfortable and efficient, look no further than EcoStar Insulation.