Blown In Insulation Richmond Hill
Enhance your attic energy-efficiency with blown in insulation upgrades.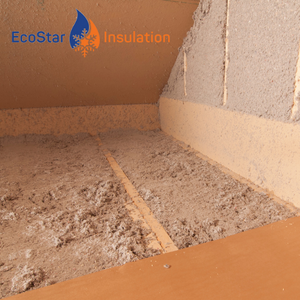 Reduce your energy consumption and costs. Increase indoor comfort with highly-effective and long-lasting blown in insulation in Richmond Hill.
Is your current attic insulation more than 20 years old? It's time to top up or upgrade to blown in insulation. After decades in place, insulation deteriorates, losing its efficacy. Factors such as water damage, mold contaminations, pest infestations, and physical damage to the attic only enhance its deterioration.
Old, ineffective insulation can cost you more on your energy bills or cause you to overwork your HVAC systems. When you upgrade to blown in insulation with EcoStar Insulation, you can save on monthly utility bills and reduce HVAC maintenance.
Do You Need to Upgrade Your Attic Insulation?
The age of your existing insulation is an easy way to tell if you need to look into new insulation. But when you don't know how close you are to the 20-year mark, there are other ways your attic insulation may be communicating with you.
Have you noticed…
Drafts around your property?
Your cooling and heating systems have been running longer?
Water damage in the ceiling?
Ice damming around the roof?
A musty or moldy odour?
If you encounter any of these signs around your property, call the experts at EcoStar Insulation. Our team will offer high-quality blown in insulation in Richmond Hill.