Protect Your Proeprty with Fireproofing Services
Keep extreme heat from affecting your entire property and reduce the chance for flames to spread with high-quality fireproofing services in Etobicoke and materials.
Trust EcoStar Insulation for reliable fireproofing in Etobicoke.
Fireproofing for Construction Projects in Etobicoke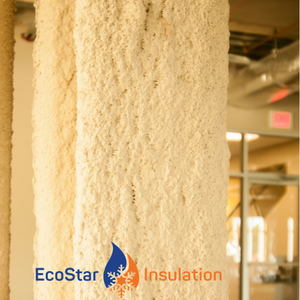 If you're working on a construction project of any type, fire protection is of the utmost importance and is mandated by regional codes and building guidelines. In highly populated buildings like multifamily and commercial properties, fireproofing in Etobicoke can save lives and property, minimizing injury and preventing the unthinkable.
If you're working on a new construction, remedial construction, renovation, or maintenance project, it's the perfect time to consider upgrading or choosing the best fireproofing in Etobicoke available. EcoStar Insulation offers comprehensive fireproofing services to ensure reliable applications and fast installation.
Benefits of Fireproofing in Etobicoke
Ultimately, fireproofing in Etobicoke is mandated to protect people and prevent damage. Professional fireproofing services use specially engineered materials to coat hazardous building elements like electrical wires to stop flames from igniting. Fire and heat-resistant materials are also used to prevent the speed and which flames spread, providing ample opportunities for building occupants to evacuate and first responders to arrive in the event of a fire.
Fireproofing in Etobicoke:
Contains flames and prevents the spread of fire throughout a particular building
Extends the longevity of critical electrical components by keeping temperature low
Minimizes property damage and related costs
Fireproofing services in Etobicoke for multifamily and commercial properties are non-negotiable. You must choose the best product and services for your property.