Why You Should Not DIY Spray Foam Insulation
When renovating and upgrading your home, upgrading your insulation is an important addition for the energy-efficiency of your property as well as your indoor air quality. While some property owners opt for blown-in insulation in Toronto, which offers many benefits including high R-value and fast installation. Others looking for long-lasting options, opt for spray foam insulation. Despite the higher spray foam insulation costs, it can provide a significant return on investment. While it may seem like a project you can take on independently, it's imperative that spray foam insulation installation be handled by a trained and experienced professional like the technicians at EcoStar Insulation.
To learn more about why you should never opt for do-it-yourself spray foam insulation installation, read on.
Understanding Spray Foam Insulation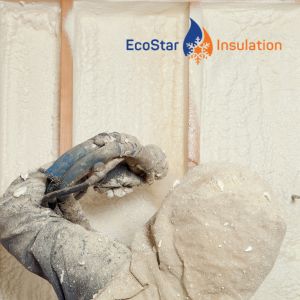 Spray foam insulation works differently than other insulations found in residential and commercial properties. Cellulose blown-in insulation in Toronto is distributed through the attic and other areas of a property via a hose, sending treated cellulose materials into the attics, walls, and more. Spray foam insulation is made of two chemicals with highly effective insulating properties that are combined and sprayed into attics, wall cavities, joists, and other important spaces. When sprayed onto a surface, spray foam insulation immediately begins to harden which means for the best installation and the most effective spray foam insulation costs, it should be done right the first time. When spray foam insulation needs to be removed the process becomes infinitely more frustrating and time consuming. With expert technicians at EcoStar, you can count on our team for expertly executed spray foam insulation and blown-in insulation services.
Risks of DIY Spray Foam Insulation
Do-it-yourself spray foam insulation is not recommended by insulation professionals for a number of reasons. For successful spray foam insulation, you need the right equipment to carefully and apply the solution to your property. Without proper training, the use of this equipment can cause property damage and mistakes with your installation. Beyond the equipment, wet spray foam can sometimes be an allergen, which can be dangerous if you've never been exposed before. Improper installation can also lead to moisture problems, indoor air quality issues, and poor ventilation.
The Importance of Professional Installation
When it comes to insulation, it is essential to rely on professional installation. Professional installers at EcoSar have the equipment, knowledge, and experience to ensure proper installation of spray foam insulation. Our teams also understand the importance of navigating ventilation and moisture control to prevent any issues that can arise from insulation installation.
Benefits of Blown-in Insulation in Toronto
While spray foam insulation is a popular choice, blown-in insulation is also a great option for homeowners in Toronto. Blown-in insulation is made of recycled materials such as newspapers, and it is blown into walls, attics, and other spaces using specialized equipment. It is an affordable and eco-friendly option that provides excellent insulation and can help save money on energy bills, but should also not be installed without a professional. When navigating installation professional expertise ensures that you can maximize your R-value and mitigate hazards that come up along the way.
For trusted spray foam and blown-in insulation installation, contact EcoStar Insulation.