Why People are Switching to Spray Foam Insulation In Mississauga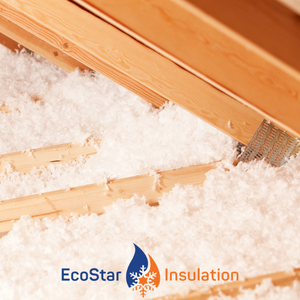 Is your home ready for winter? Spray foam insulation in Mississauga is the most popular product to help protect your house against winter's chill. At EcoStar Insulation, we've been helping your neighbours and local businesses switch to this highly efficient, safe, modern insulation. Spray foam insulation's R-value makes it an exceptional product for attics, basements, crawlspaces, and more. Curious to learn more? Keep reading to learn the four top reasons to switch to spray foam insulation.
Efficient
Modern life is busy — and between juggling work, play, and rest, we need our homes to run smoothly and efficiently. Efficiency can come in various forms. Whether it's in the time it takes to install new attic insulation, how well that insulation protects you from the elements, and how much money it can save you on your heating and cooling bills. The good news is that spray foam insulation does all of this! One application is all it takes to make solid improvements in your home.
For example, traditional fibreglass insulation take around 16,000 lbs. to cover a 100 sq ft area, but spray foam only requires 350 lbs. In addition, spray foam is quick to install, with most installations taking up a day or less of your time.
Air Barrier
The EcoStar team loves how spray foam insulation creates an impermeable air barrier, reducing the necessity of needing two products (and twice the installation time!). Its strong air and moisture barrier effects mean that spray foam insulation in Mississauga will aid you in preventing moisture, mold growth, as well as seal up any cracks that pests and insects may enter.
Sound Barrier
If you live in an urban environment, you likely experience the effects of noise pollution now and again. Another bonus of spray foam insulation is that dense foam is the perfect sound barrier — in fact, it's not too different from the materials used in many sound booths and recording stations! Less noise creates a more peaceful home environment.
Saves You Money
Few renovations start saving you money immediately after installation, and while spray foam might not look as lovely as a brand new master en-suite, it can certainly help you afford one! Spray foam insulation's R-value makes it an exceptional insulation material that outperforms many of its competitors. Its ability to prevent heat transfer means that more of your air conditioning stays inside, where it belongs, reducing energy loss and improving the efficiency of your furnace. Many of our clients at EcoStar report savings on their first energy bill post-installation, and with a long lifespan, those savings add up year over year.
If these four reasons to switch to spray foam insulation in Mississauga aren't enough, call the EcoStar team to learn more! Spray foam insulation is an excellent option if you need to replace your attic insulation but works equally well if you're looking to top up and improve the energy efficiency elsewhere in your home too. Reach out to us online or by phone.