Why Leverage Spray Foam Insulation for Toronto's Deep Retrofit Challenge
Spray foam insulation in Toronto is a versatile insulator used for attic insulation, wall insulation, basement insulation, and crawl space insulation in commercial and residential properties around the city. Its popularity is due to its exceptionally high R-Value or performance ability and its longevity. Some studies estimate that spray foam insulation lasts up to 80 years, compared to about 20 years for alternative attic insulation materials. At EcoStar Insulation, a trusted provider of spray foam insulation in the Greater Toronto Area, we're here to help you create a more energy-efficient property.
The city of Toronto is incentivizing the switch to more energy-efficient building materials with the Deep Retrofit Challenge in an effort to significantly reduce greenhouse gas emissions. The city cites building heating as a significant source of emissions.
What is the Deep Retrofit Challenge?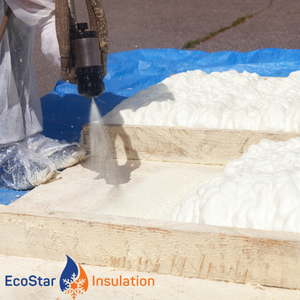 Funded by the federal government of Canada, the Deep Retrofit Challenge is a program designed to support retrofit projects with the aim to significantly reduce emissions in 10-16 buildings in the city and set an example for other builders and property owners throughout Toronto and elsewhere in Canada to accelerate progress towards Net Zero Emission goals.
Accepted participants in the challenge will receive a grant equal to 25% of their retrofit costs to a maximum of $500,000. Buildings that will be considered include commercial buildings, multi-unit residential buildings, and mixed-use commercial buildings. The deadline to enter is October 31, 2022.
What Types of Building Retrofits Count?
Many different types of upgrades can be made to improve the energy efficiency of your building, from installing high-performance windows to renewable energy sources, electric heat pumps, and updating building controls such as thermostats. One of the most significant changes you can make during your retrofit is to the insulation. From attic insulation to crawl space insulation, spray foam insulation in Toronto is one, if not the most, energy-efficient material for building insulation available on the market. Not only does it enable unprecedented heat retention, but it also seals air leaks and creates a strong vapour barrier to further boost performance.
Benefits of Participating in the Deep Retrofit Challenge?
When you install new spray foam insulation throughout your building with the EcoStar Insulation team, you'll be able to rely less on your heating systems to regulate indoor temperatures, saving you utility costs throughout the year while also reducing the wear on your furnace, air conditioning unit, and entire HVAC system.
Participating in the Deep Retrofit Challenge allows you to install spray foam insulation throughout your building envelope at a lower cost with grants from the government, giving you the long-term benefits of spray foam insulation at a fraction of the cost. You and your brand will also be able to contribute to a healthier environment through more sustainable practices.
Working with EcoStar Insulation
EcoStar Insulation is a leading supplier and installer of residential and commercial insulation solutions. Our team will provide you with high-quality insulation solutions designed to maximize your energy efficiency.
Want to Learn More About Our Services?