What's the Best Crawl Space Insulation?
For many homeowners, the crawl space is a mystery feature of the home, but it actually plays a vital role in protecting the structure of the house and the people in it. Despite being separate from the living area, residential crawl space insulation can significantly improve home comfort. With a variety of options available, how do you choose between blown in insulation and spray foam insulation?
For help deciding on the best crawl space insulation for your home, reach out to the experts at EcoStar Insulation. Our team supplies high-quality blown in insulation and spray foam insulation solutions, and we'll guide you on the right choice for your home.
Here are some tips to help you with your crawl space insulation project.
What is the Role of Crawl Space?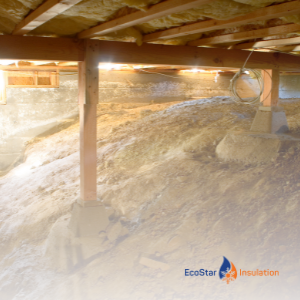 The crawl space is designed to keep the moisture and critters in the ground below out of your home. Unfortunately, it's a major source of heat loss in the home. Some reports suggest that without proper crawl space insulation, as much as 20% of your home's heat will escape, costing you hundreds on your heating and cooling bills.
Crawl Space Insulation Options?
Two popular insulation choices for the crawl space are blown in insulation and spray foam insulation, both of which EcoStar Insulation can help you with. Both blown in insulation and spray foam insulation offer exceptional R-Values or energy efficiency.
Benefits of Blown In Cellulose
Blown in Insulation usually covers two types of insulation, one being fiberglass and the other is cellulose. Cellulose is an eco-friendly material that is treated to be fire resistant and mold resistant. The loose nature of blown in insulation makes it easy to install in hard-to-reach areas like crawl spaces and attics.
Drawbacks of Fiberglass Crawl Space Insulation
While fiberglass insulation has a good R-Value, it has a tendency to fall out of place a few years after installation. As a result, the effectiveness of the crawl space insulation decreases, resulting in heat loss in a short period of time, costing homeowners on heating.
Benefits of Spray Foam Insulation
Spray foam insulation is a well-regarded insulation material for its high-performance capabilities and long lifespan. As a result, it is a favourite for crawl space insulation. Where moisture is the problem, spray foam insulation helps block cracks in the foundation and prevent water or moisture from seeping into the home. At the same time, spray foam crawl space insulation also prevents air leaks, which helps indoor heat retention and enables cost savings. By forming a barrier between the indoors and outdoors, contaminants like mold spores and pollen are also kept at bay, protecting your indoor air quality.
How to Make Your Decision?
Not sure which insulation is best for your crawl space? An energy audit can help you determine vulnerabilities in your home. For support, contact the EcoStar Insulation team for guidance. We can help you find eco-friendly solutions that can sometimes be installed on the same day. Our team is knowledgeable about all types of insulation and will help you make an informed decision you trust.