What Winter Tells You About Attic Insulation in Mississauga
Winter is the true test of attic insulation in Mississauga. Any issues with the efficacy of your insulation will often start to show during this time, indicating it may be time to upgrade your home's insulation. EcoStar Insulation offers reliable services with high-quality cellulose, blown-in insulation, and spray foam insulation. Get your attic insulation in good condition by upgrading when you start to see signs of inefficiency.
Here are signs that your attic insulation in Mississauga needs an upgrade.
Poor Indoor Air Quality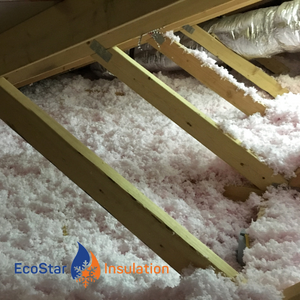 One of the most important tasks insulation plays in our homes is maintaining air quality. As your insulation loses its efficacy over the years, you'll notice the air quality of your home start to decrease. If you're unsure how to tell if your home has poor air quality, a pretty good test is to notice if any residents who feel ill suddenly feel better once they're outside the home. Some people find that they have allergic reactions or hypersensitivity to something in their home without necessarily being able to identify what is causing it.
Other signs can include random headaches, fatigue, nausea, dizziness, coughing, sneezing, shortness of breath, and sinus congestion. Though they might seem like small symptoms, it is still crucial to see a doctor if you're worried about your health. If you suspect your home's air quality is to blame, you can always get it tested by a team of professionals.
Water Damage
You may not realize it, but your Mississauga attic insulation plays a big role in keeping your home dry. In its prime, your attic insulation keeps moisture and condensation out. Once your attic insulation starts to lose efficacy, you may notice water damage suddenly appearing in your home. If you suspect water damage, it's important to take care of it as soon as possible because water damage in your home can lead to mold growth. Any sign of moisture, dampness or the smell of mildew in your attic may mean it's time to bring in the professionals at EcoStar Insulation for a spray foam insulation upgrade.
Higher Heating Bills
One of the most well-known roles of attic insulation places in our home is temperature regulation. When it's functioning properly, your attic insulation keeps hot air in during the winter and out in the summer. However, if you notice that your heater is suddenly working more to heat your home than in past years, that may be a sign that your insulation isn't doing the work it should. To avoid overly high heating bills, contact the team at EcoStar Insulation to help you upgrade to blown-in insulation or spray foam insulation.
Ice Damming
When your attic insulation isn't maintaining an even climate in your home, ice dams will begin to form outside your attic. These ice blocks form when snow or ice is continuously melting and freezing. Ice dams can block water or snow from properly draining and are a common sign that something is wrong with your home's insulation.
Pest Infestations
Once insulation loses its density and efficiency, pests like mice and rats will wait no time to make their new home. If you notice holes in your attic insulation or scurrying paws up and down the attic, it likely means that pests have made themselves at home.
EcoStar Insulation can upgrade your attic's insulation to a high-quality product like blown-in insulation or spray foam insulation.