Top Reasons to Choose Spray Foam Basement Insulation
Spray foam insulation is an innovative insulation project that is being celebrated for its many beneficial properties. Used in new construction and retrofits, spray foam insulation in Mississauga and Toronto can significantly improve energy efficiency. One area of commercial and residential buildings that benefit tremendously from upgrading to spray foam insulation in Mississauga is the basement. At EcoStar, our team of skilled installers will help you upgrade your basement insulation to high-quality spray foam insulation.
Learn why property owners are investing in spray foam insulation costs and how it can benefit you.
Unprecedented Longevity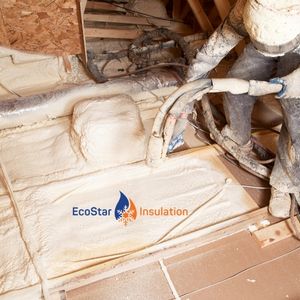 Due to aging and exposure to various contaminants, most building insulation materials last between 15 and 20 years. Which means that it needs to be replaced about 2 to 3 times in a given lifetime. Spray foam insulation, on the other hand, has an expected lifespan of 80 years. This extended lifespan saves you the cost of future insulation investments, as well as the time and stress. When compared to alternative basement insulation options, spray foam insulation in Mississauga can outlast and outperform.
Exceptional Water Resistance
Most basements are located underground which means that they are at risk for water intrusion. But because the basement is out of the normal path of day to day life, noticing water leaks in the basement can be more challenging than if they were to occur on main floors. In the basement water damage can be the result of foundation leaks, improper waterproofing, appliance overflows such as washing machines and water heaters, or pipe bursts. When insulation gets wet its efficacy becomes altered. With many traditional insulation materials this can be a serious blow to your building or home insulation. But with spray foam insulation in Mississauga, this isn't necessarily the case. Water cannot as easily penetrate spray foam as it creates a durable seal, which stops leaks from interfering with your energy efficiency, keeping your basement insulation effectively for longer.
Mold Resistant Basement Insulation
Because spray foam basement insulation is resistant to water damage, it is also mold resistant by extension. Mold outbreaks are very common in the basement due to poor ventilation, water damage, and organic material. LIke with water, mold infestations tend to target older insulation types, rendering it ineffective as the outbreak spreads. Unlike many alternative basement insulation options, spray foam insulation is not made with organic materials and not susceptible to water damage, which significantly minimizes its conduciveness to mold infestations. This protects your property's indoor air quality and extends the lifespan of your basement insulation.
High R-Value
R-value is a measure of insulation's effectiveness. Without insulation a substantial amount of heat is lost through basements. Spray foam insulation offers better R-value or thermal resistance than virtually any other insulation available on the market. When you choose EcoStar Insulation for spray foam insulation in Mississauga you can work with our team of experts to determine the ideal R-Value for your basement and we will apply as many layers of spray foam to deliver that R-value. The ability to control your R-value and minimize unnecessary heating or cooling costs, makes spray foam insulation a top choice for property owners throughout the Greater Toronto Area.
Explore Your Spray Foam Insulation Options
To explore our basement spray foam insulation options in Mississauga and the GTA, talk to the EcoStar team or submit a free and easy spray foam insulation cost estimate online.