The Benefits of Fireproofing Your Business
When starting your business, setting up a new location, or building a new headquarters, there's a lot to consider. In Ontario, the Ontario Building Code and Fire Code mandate commercial fireproofing. To be compliant, builders and businesses must use approved fireproofing materials. Working with an experienced fireproofing company like EcoStar Insulation will ensure a seamless installation of fire protection materials throughout your commercial property so you can meet the legal requirements required.
To learn more about the benefits of high-quality commercial fireproofing for your business, read on.
Avoid Fines & Penalties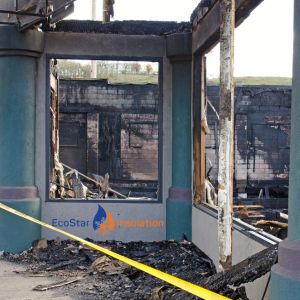 Since fireproofing for commercial properties is required by law in Ontario, it's essential that builders comply with these regulations. Installing the property fireproofing will ensure that you mitigate fines and penalties in the event of a building code or inspection. By working closely with a trusted fireproofing company in Toronto, you can be assured that the services, materials, and scope of work are comprehensive and effective. Our team of professional fireproofing technicians at EcoStar Insulation understands the nuances and demands of the regional fireproofing requirements, allowing us to provide direction, guidance, and installation.
Prevent Loss of Lives & Injuries
The most important benefit of working with a professional fireproofing company during the construction of a commercial property is our ability to maximize the safety of its occupants. Your business and its properties should be a place where employees, customers, vendors, and others can visit safely. Commercial fireproofing saves lives and prevents severe injuries in the case of a fire. Intumescent and cementitious fireproofing both have thermal-resistant properties that slow the spread of flames inside, which reduce the speed at which a fire can spread from one room or area to the next. When installed on steel beams and other integral surfaces, fireproofing minimizes the chance of collapse. Essentially, commercial fireproofing buys time for people inside of a property to evacuate promptly and for first responders and firefighters to arrive, and minimizes exposure to harmful smoke when a fire occurs.
Avoid Costly Property Damage
While most commercial buildings are equipped with comprehensive insurance policies, there are many costs to significant property damage resulting from a fire. By engaging a responsible and experienced fireproofing company from the start, you can mitigate serious property damage or total collapse in the future. Cementitious and intumescent fireproofing preserves the integrity of steel structures and other building materials, preventing them from weakening quickly. With more time to respond, firefighters can respond and subdue flames before they compromise the entire building. This increases the chance for restoration and reduces downtime for your business, which can also prevent expensive repairs and lost business opportunities.
Investing in Fireproofing with EcoStar Insulation
Fireproofing is an essential business investment for a business that is about more than simply meeting local building standards in Ontario. Fireproofing and other safety investments are critical to maintaining a positive brand image and protecting everyone involved in your business operations, including your customers and employees. At EcoStar Insulation, we offer multiple fireproofing options, so you can get the best value for your investment. To learn more, talk to our team directly.