Strengthen Your Brockville Home with Spray Foam Insulation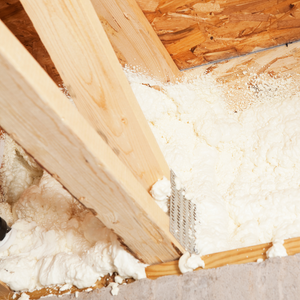 Spray foam insulation in Brockville is a smart choice for homeowners wishing to improve their energy efficiency and indoor comfort. The team at EcoStar Insulation is passionate about this safe, modern, and cost-effective product that's flexible enough to be used all-around your home. As the weather shifts due to climate change, protecting ourselves from the extreme heat and cold goes hand-in-hand with lowering our carbon footprint. Whether this means adding crawl space insulation, attic insulation, or exterior wall insulation, spray foam insulation can play a significant role in protecting your home.
Home Durability
Many factors affect the durability and longevity of your home. Common problems like high humidity and poor ventilation cause mold growth, while air leaks cause discomfort and poor temperature control. Over time, these factors will wear out your home, leading to cascading repair and maintenance costs and time.
Spray foam insulation helps put the brakes on excessive wear and tear by doing several things all at once. Spray foam insulation:
Efficiently stops heat transfer (a fancy way of saying it's a GREAT insulator!).
Acts as an air barrier, preventing unwanted air movement.
Acts as a moisture barrier, preventing unwanted moisture.
It helps to dampen noise pollution.
It strengthens the structure of your home.
Resists and repels mold, pests, and insects.
Roof Strength
The roof is an integral part of our home's heating and cooling system, and it often faces the force of the weather, be it July's intense sun, October's cold rain, or the wind and snow of the winter months. Adding spray foam insulation to your attic in Brockville can help improve its strength and longevity. As it bonds to your sheathing and joists, it adds rigidity and enhances your roof's wind resistance.
Wall Strength
The walls are another site where spray foam insulation may help. As the central support system of your home, walls are subject to weather, settling, weight, and gravity. Strong winds have been known to distort walls and cause cracks and other structural damage.
Spray foam insulation can help walls retain their shape under duress, adding 75-200% improvement in structural durability during racking strength tests.
How to Install Spray Foam Insulation in Brockville
If you're curious about installing spray foam insulation in Brockville, you've come to the right place! As a local expert in spray foam and home insulation, the EcoStar team has experience installing spray foam in a wide range of residential and commercial properties. Spray foam insulation's flexibility means that we can use it to target areas of your home needing support and make recommendations for future projects or improvements.
Spray foam insulation lasts for decades, which means that one professional application is all it takes for most homeowners. This translates into years of energy efficiency and lowers heating and cooling bills for most of our clients! To learn more about EcoStar or services such as crawl space insulation, basement insulation, or attic insulation, check out our Services tab or reach out to the team.