Top Spray Foam Questions and Best Answers
Spray foam is becoming more popular every day. This year there was an increase of 40% in spray foam usage throughout the country. People are choosing spray foam insulation because of the long-term energy savings and for the comfort of their home. Below we have listed some of the most frequently asked questions. You can also call us for further explanation or to discuss your project.
1. What is the R-value?
R-value is an indicator of how well insulated your building is. It refers to the ability for a material to resist heat loss. So the higher the R value, the greater the resistance, and better insulation power.
2. Why we use certain R-values for insulation?
Because these are recommended by the building code and the building science experts.
3. What should I use, open cell or closed cell insulation?
This is a frequent question, and the answer depends on a couple of factors. If you need less insulation but yet high R-value, then choose a closed cell. If you are more focused on sound-proofing properties, then choose open cell. For more details, call us.
4. Does spray foam need a vapor barrier on top (e.g. tarp)?
The closed cell spray foam doesn't need a vapor barrier because the spray foam itself functions as a vapor barrier, air barrier and thermal barrier too. However, the open cell spray foam needs a vapor barrier.
5. Should I stay in the house after the spray foam application?
It is recommended to vacate the house for 24 hours.
6. Can I use spray foam for the attic?
Yes, you can use spray foam for the attic, especially to make it into conditioned place.
7. Can I use spray foam for the joist pockets?
Yes, you can! Joist pockets, joist cavities, also known as pockets, are difficult to insulate properly with regular insulation (fiberglass, cellulose). This is because regular insulation fails to fill the cracks or small voids. Thus spray foam is the best solution to insulate your joist pockets properly.
8. What is CUFCA?
Canadian Urethane Foam Contractors Association (C.U.F.C.A) is the association where all the spray foam contractors receive certification for being trained according to the highest industry standards. So always ask your contractor if they are certified with C.U.F.C.A.
9. Is there a warranty provided if I use spray foam?
At Ecostar Insulation we provide a warranty for the products and the services we use. With collaboration from Demilec and CUFCA, you will have a guaranteed long-term warranty.
10. Should I ask for a work report after the completion of the spray foam work?
Yes, you should. It will be required for the inspection.
11. Why is Heatlok Soya environmentally friendly?
The spray foam product we use is Heatlok Soya. It is environmentally friendly because it is produced by recycled plastic bottles and renewable resources such as soy and vegetable oils. It is approved by the Canada Green Building Council and Green Guard Certified.
12. What surfaces can the spray foam be applied on?
Any kind of surface can be used for spray foam. E.g. plywood, concrete, wood, cinder block, brick...etc. What matters most is for the surface to be free of grease, oil or anything that could complicate the curing process.
13. Can spray foam be used for soundproofing?
Yes, spray foam insulation works very well as a sound attenuator, especially for irregular surfaces.
14. What are the main differences between closed-cell and open cell spray foam?
Closed cell: Higher density, higher R-value, vapor barrier, air barrier, water resistive, structural strength.
Open cell: lower density, lower R-value, no vapor barrier, lower price.
15. Is the spray foam hazardous?
No, the product is not hazardous. It is approved by the ULC under CAN/ULC S705.1-01.
16. Is spray foam recommended for crawl space?
Yes because by providing high R-value, spray foam adapts to any surface and avoids mold build-up.
17. Can I spray foam my Cargo Van?
Yes, this is the best choice. Use closed-cell spray foam, and you can get high thermal insulation by maintaining plenty of available space.
18. What is a fire-rated coat?
It is paint applied on top of the spray foam and provides a 15 min fire protection. One of those products is called DC-315
Do you need an insulation quote?
If you want to have a more specific idea about how much the spray foam insulation cost or any pertinent information, feel free to contact us anytime. Quick on-site visits and knowledgeable technicians will be at your disposal.
Call us at 647 799 3106 / 866 789 1536 or email us at info@ecostarinsulation.ca to book a free consultation.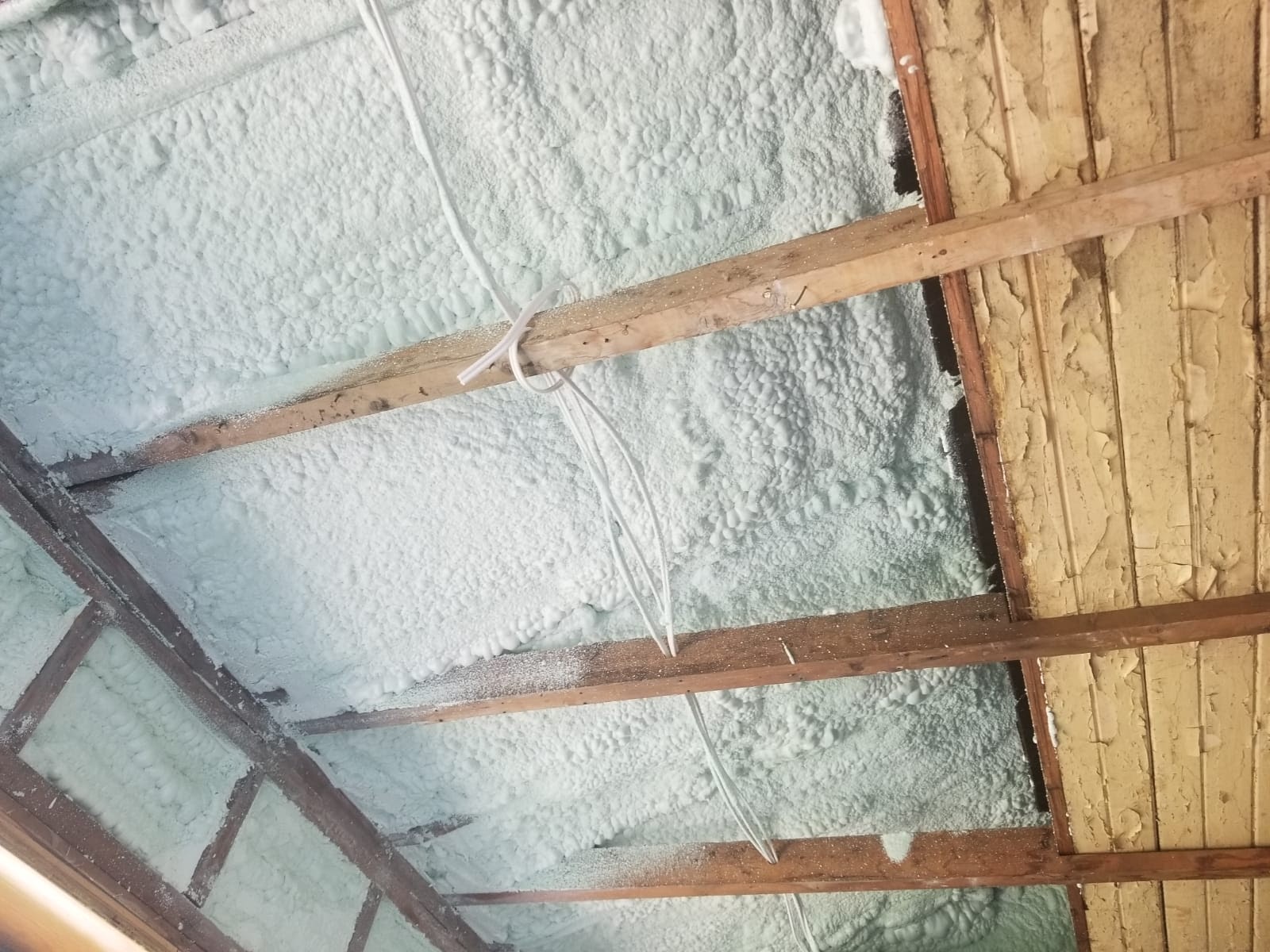 Insulating a ceiling at an R31 value with closed cell spray foam.

Insulating the exterior walls at an R24 value with closed cell spray foam.