Save Money with Blown-In Insulation for Mississauga Homes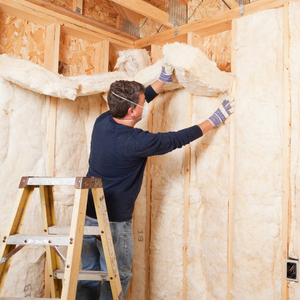 One of the best reasons to install blown-in insulation in Mississauga is that it's a renovation that helps you save money — but that's not all there is to it! EcoStar Insulation is one of the GTA's top blown in insulation companies. Through thousands of successful installations we've seen the wide range of comfort, sound, and temperature benefits that new attic insulation in Mississauga can create. Did we mention that new attic insulation is one of the most cost-effective ways to improve your home's energy efficiency? Stay with us to learn more!
The Cost of Blown-In Insulation
At EcoStar, we assess each client's attic to provide accurate and site-specific estimates for each installation. Depending on the R-Value you need and the size of the space to be insulated, costs may vary between $500-$1000 or more.
This low cost is only one part of why your neighbours are choosing blown-in insulation — the benefits and ease of installation also help make it very desirable. Blown in is inexpensive because it's usually made from post-consumer paper, which means it plays a role in the reduce-reuse-recycle system. It's also easy and fast to install — the clue is in the name! The cellulose particles are blown into your attic or walls, reducing the need for large crews or fussy installation.
Blown-in insulation has excellent R-Value ratings and great efficiency and longevity. If your current insulation needs a boost, blown-in can often be installed on top, and with a lifespan of +30 years, blown-in insulation makes an excellent long-term investment.
Eco-Friendly Home Insulation Solutions
Most home renovations are focused on improving the experience of your home in visible ways, like putting in a new kitchen. But as our climate shifts and once-in-a-century weather events become more common, you can play a role in reducing your carbon footprint by improving your home's energy efficiency. These sorts of changes don't have the instant wow factor of a new kitchen, but they have just as big of an impact in the long term.
Adding blown-in insulation to your attic, for example, can have trickle-down effects for the rest of your home. It can help your roof last longer and resist mold growth in the attic. It makes your home more comfortable and can improve indoor air quality. It also reduces wear and tear on your furnace and air conditioner and helps them run more efficiently, lowering your monthly bills in the short and long term.
As one of the GTA's most popular and trusted blown-in insulation companies, EcoStar Insulation has helped thousands of homeowners make positive changes to their homes. Blown in insulation in Mississauga can help homes both new and old and is one of the most cost-effective ways to boost your home's energy efficiency. To learn more about the installation process, reach out to our team through our contact page!