Ontario Home Insulation
Adding home insulation in Ontario is more than necessary but quality insulation, just like most things, may come at a cost. Through experience we can say that most homeowners tend to choose quality products when investing in their buildings.
Between various home insulation choices, you will find cheaper products than Spray Foam or Blown In Insulation but there are a few notable differences, as you can see below.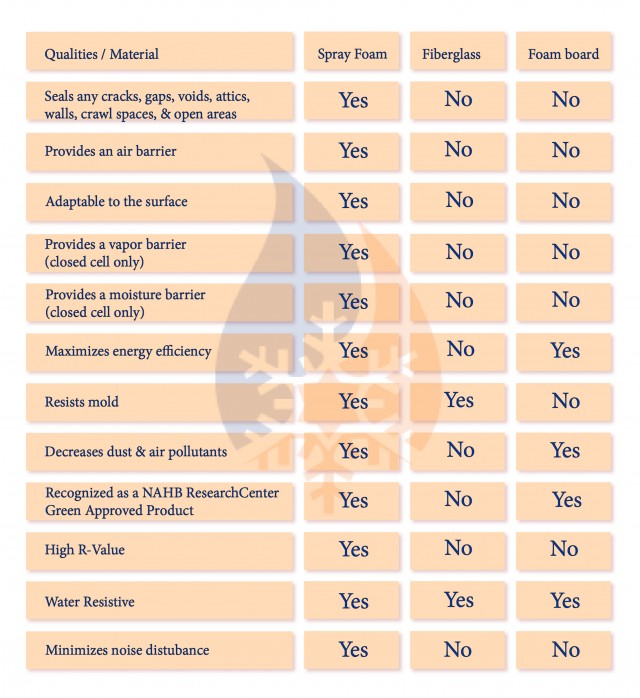 Everyone wants comfort!
Do you have problems with the interior temperature, mould, mildew and other factors that may affect your health or the health of others living in the building? You do need home insulation but what if you live in an insulated building, and you are still dealing with such problems? Then your home insulation isn't good enough, it is old or it was not installed properly.
Well, changing insulation every 7 years, does not seem fair. That is why we recommend choosing quality products.
Insulate your house wisely!
We at Ecostar, recommend insulating the house with spray foam insulation and if you can't afford it, invest for a longer period. Yes, you can use the best material for home insulation, and without spending too much money! Start with the area that mostly needs to be insulated.
1-Exterior Wall
Up to 35% of heat loss escapes through the walls because of poor home insulation. External wall home insulation significantly reduces this heat loss, leading to a reduction in annual fuel bills by as much as 25%.
External Wall Insulation (EWI) systems also protect the building structure, prevent deterioration, and overcome thermal bridging and condensation problems. In a newbuild instance, EWI systems are the most cost-effective way of achieving the current & future thermal performance requirements for the building regulations, achieving an internal environment with low-temperature fluctuations and low heating requirements.
Increases the thermal quality of the building
Overcomes moisture/condensation issues
Protects the existing building envelope
Reduces heating bills by 25%
Improves the building's appearance
2-Garage Ceiling
The garage is an important space, but it is also the coldest environment in the house because of many factors, such as the size of the garage door, and the lack of insulation. As the cold air moves throughout the garage, it will make the ceiling colder which will result in a cold above-garage room floor.
You can insulate it and turn it to a livable space. If your budget is too tight to do that, then you must consider insulating the garage ceiling instead of paying for the whole home insulation.
If your garage doesn't have actual insulation added to the ceiling you may have noticed that the above room of the garage is cold. That happens because the ceiling of your garage is also the floor of the room above and air leakage occurs. Having a cold room may be acceptable during summer but it can get uncomfortable during winter. It is the main cause of high heating bills, and even at its capacity, the heating won't be enough in the coldest months. Integral garages, don't just bring in cold air but also allow for noise to travel. Insulating the ceiling will keep the temperature of the room above constant and keeps the electricity bills lower.
3-Attic Insulation
Best options for attic insulation
Attic blown-in insulation
Blow-in cellulose is the insulation that uses a loose-fill product that is usually applied in an existing wall or in the attic. With an attic, this type of insulation is the most common and one that property owners find more convenient. Loose-fill cellulose insulation is still by far the most practical and cost-effective method when applied to enclosed walls. The product we use is made up of paper fibers and is EcoLogo recognized.
Attic spray foam insulation
Members of the spray foam industry consider it the most effective application because it effectively seals off and insulates the entire attic space from any air infiltration. An air barrier is created by applying foam directly in between the joists, and on the gable wall ends. The application of spray foam between the floor joists, where cellulose and fiberglass insulation is traditionally used, is a common service. With this method, there is no need to apply insulation to the rest of the attic.
The attic, via ridge, soffit, and gable vents, remains highly vented. It is considered as an effective system and it is now a common engineered system used throughout Canada. In general, this is the method that your builder/architect subscribes to because building science and design principles find it effective to use spray foam in the attic.
The method requires insulation to be used on the attic floor for insulating the ceiling from the seasonal cold and/or heat in a traditional vented attic setting. The practice of insulating the attic is highly supported by the building industry because design techniques and standard roofing require the attic to be ventilated in order to reduce moisture problems and heat build-up in during the summer months. Having your attic and roof proper ventilated is the first step in keeping your home more comfortable and secure.
Call to find out if you have the right amount of ventilation, and what type of service suits your needs, and know that your attic and roof are in good shape.
4-Basement Walls
You may be planning to utilize the basement more often for personal or business purposes. In this case, insulating the walls and the ceiling may be in your advantage. This is an effective solution that makes the basement a better area for the whole family. You will find it way more comfortable if you are looking to turn it into a recreational area.
Do Basement Walls Need Insulation?
Regardless of the age of your home, basements are always at a disadvantage when it comes to energy efficiency. They're below grade, and that brings with it a natural coolness that is amplified during the winter months. Basement walls can benefit a great deal from added insulation, which will help to keep your warm air in and make for a more regulated indoor environment. Adding basement insulation will give your house a significant touch of improvement. It:
helps to minimize thermal bridging (when hot or cold temperatures travel between heated and unheated spaces) and reduces the amount of heat lost through your foundation.
provides protection against moisture.
helps to protect the damp-proof coating applied on many basement walls.
can be installed on the interior or exterior.
brings your basement into the air conditioned part of your home, which helps to reduce temperature differences.
protects against insect infestation.
It increases the livable area
It helps keep the house in good shape
It saves them money - bills
It helps to reduce air leaks
At EcoStar, our ideal type of basement insulation is an interior coating of spray foam, which excels at providing great thermal coverage and can be done with minimal fuss. Regardless of the age of your home, spray foam is the ideal material for basements because it easily provides continuous coverage, as well as other significant advantages, such as:
Acts as an air and vapour barrier
Provides excellent sound dampening
It doesn't get wet, making it extra resistant to mold and mildew growth
Why choose us?
We at EcoStar Insulation strive to provide the best quality products and the highest standard of expertise. Our team's professionalism and experience means that you never have to worry about anything less than thorough and complete workmanship. Our service includes a free consultation with an estimator where you have the opportunity to discuss application, products and design options available for your project. Our team will guide you from the consultation to the execution stage. Contact us for your free estimate.