Important Areas of the Home That Need Spray Foam Insulation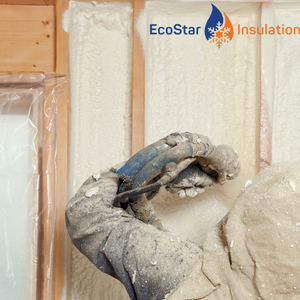 In the last two years, we've worked out of home offices and shepherded kids through virtual school - and many of us have noticed a rise in heating bills, drafts, and problems controlling the thermostat. An easy solution to these problems is to install spray foam insulation in your attic, walls, or basement. EcoStar Insulation's cost-efficient insulation services have helped thousands of families in Toronto, Etobicoke, North York, Mississauga, and other GTA neighbourhoods make their homes cozier and more efficient. Read on to learn more about basement spray foam insulation and other areas we can improve.
Spray Foam Insulation Benefits
Spray foam insulation is the best in modern insulation products because it does more than insulate. Beyond offering excellent R-values, spray foam also:
Eliminates 99% of air leaks that cause energy loss
Lowers your heating and cooling bills
Eliminated water leaks by acting as a vapour barrier
Reduces noise pollution
Flexes and conforms to awkward spaces
Spray foam is a product with a long life span — but you won't have to wait to see results. Many of our clients in the GTA report experiencing an improvement in the week following installation. Spray foam insulation is also easy to install and makes no mess compared to traditional batt-style insulation.
Places to Insulate in Your Home
If you're curious about where you can install spray foam insulation in your home, the EcoStar team has a few suggestions. These are some of the most common places our clients in Toronto, Etobicoke, and North York choose for spray foam insulation:
The Basement
Many homes in the GTA have cold, damp, and unusable lower levels — but basement spray foam insulation can completely change this! Gain extra living space or build an in-law suite by insulating your basement.
The Crawlspace
Another lower-level space that can benefit from insulation is the crawlspace. One of the simplest ways to fix cold floors is to insulate the crawlspace, which creates a barrier between the cold, unheated air and your feet.
Exterior Walls
EcoStar often helps homeowners create a better building seal by insulating exterior walls with spray foam. Many older homes in the GTA have little or no external wall insulation, and adding spray foam insulation is an easy improvement, moreover spray foam insulation cost is considered to be affordable and of high value.
Attic Insulation
The most common place EcoStar recommends adding spray foam insulation is in the attic. Improved attic insulation helps to repel the hot sun during the summer and keeps the heat in during the winter, making it an investment that works for you year-round.
Learn More About Spray Foam in The GTA
If you're curious about where spray foam insulation can be used in your home, the answer is easy: just ask EcoStar! Our friendly and knowledgeable technicians are happy to tell you more about basement spray foam insulation, how our products work, and what the installation process is like. To learn more about spray foam in Mississauga, Toronto, or Etobicoke, reach out using our contact page.