How to Reduce Heating Costs with Spray Foam Insulation
As temperatures in the Greater Toronto Area drop steeply in October, more and more people are turning their air conditioning off and switching to their heating systems. Proper heat retention in commercial and residential buildings is critical for indoor comfort, health, and productivity. Unfortunately, as insulation quality deteriorates over time, many people will find that with rising energy costs and reduced energy efficiency, a jump in their utility bills. By investing in spray foam insulation costs, you can mitigate unnecessary heating costs, putting more money back in your pocket. At EcoStar Insulation, you can get high-quality spray foam insulation in Toronto for the most critical areas of your buildings.
Here's what you need to know about how spray foam insulation facilitates heat retention and minimizes heating costs in the winter.
Seals Air Leaks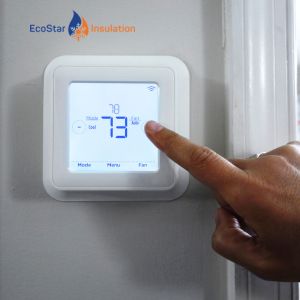 One of the best qualities of spray foam insulation is its ability to close up or seal leaks or openings in a building. Used for crawl space, building envelope, and basement insulation, the air-tight seal created by expert spray foam installation stops cold air from entering your property and compromising your heating efforts. As a result, your heating mechanisms will not have to work as hard to regulate indoor temperatures.
Stop Water Intrusion
Similar to sealing air leaks, spray foam insulation creates a water-resistant barrier that stops leaks from penetrating through the insulation. This not only protects the building materials themselves but also saves you the cost and trouble with insulation mold removal. When traditional insulation materials get wet from leaks or other sources of moisture, they become susceptible to mold, which interferes with the performance or efficiency of your insulation, resulting in higher energy use to maintain ideal heat levels.
Maximize Thermal Resistance
Whether it's attic insulation or basement insulation, the purpose of insulating overall is to stop heat loss through the building envelope. Spray foam insulation in Toronto does this very well. Engineered to deliver the highest R-value from any alternative insulation options, spray foam from EcoStar Insulation can be applied according to your specific thermal-resistance needs to promote ideal performance. The better your insulation can retain heat, the less energy you'll need to use to generate heat. Not only will this reduce your energy consumption, but it will also protect your heating mechanisms.
Stronger, more effective insulation minimizes the use of your furnace and other heating elements, which, in turn, minimizes wear and tear on these machines or appliances. By switching to spray foam with an experienced insulation company like EcoStar Insulation, you can save money in maintenance costs as well.
Signs Your Insulation Is Costing You
Many people are unsure of when insulation needs to be replaced because the performance of old insulation slows gradually over time. If your insulation is more than 15 to 20 years old, or if you've noticed a constant increase in your utility costs, then it's best to consult with an insulation expert at EcoStar Insulation. If you hear your furnace working for longer periods of time or turning on more frequently than in the past, that could be a sign that your existing insulation is no longer retaining heat effectively.
For expert insulation upgrades and to learn more about spray foam insulation in Toronto and the GTA, trust the experienced EcoStar Insulation team. We will provide you with a free spray foam insulation cost estimate in a method that is convenient for you.