How to Get a Spray Foam Cost Estimate with EcoStar
Spray foam insulation is a top choice for many property owners and construction teams. The industry-leading insulation material is a highly sought-after option for a number of reasons, including its durability, longevity, versatility, and exceptional efficacy. Spray foam insulation in Toronto is used in retrofits, new builds, and renovation projects in building envelopes, basements, crawl spaces, walls, attics, and more. At EcoStar Insulation, we offer high-quality insulation materials, strategic and skilled installation, and budget-friendly options. To help you streamline your decision, we provide free spray foam insulation cost estimates.
To learn more about how to get a spray foam insulation cost estimate, read on.
Over-the-Phone Estimates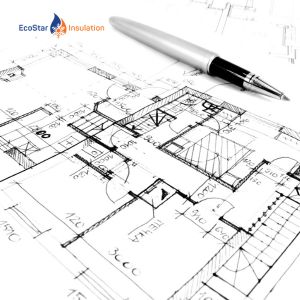 If you're considering spray foam insulation in Toronto or the nearby areas with EcoStar Insulation and have a general idea of the size and intricacies of your space, you can call the EcoStar Insulation team directly for a preliminary estimate quote. Our specialists will discuss your project with you, going over the needs of your space, the type of property, and the ideal R-value. Phone estimates are convenient and free. While you're on a call with our team, you can ask all your spray foam questions, and our team will be happy to provide insights and guidance.
Drawings & Blueprint Estimates
If you're planning a significant property renovation or new construction, you can easily submit the drawings electronically to our team. Based on the documents provided, our specialists will provide a curated quote that is aligned with the dimensions outlined in your drawing. Blueprint and drawing submissions are a favourite estimate option for busy contractors and construction teams managing concurrent projects. By simply submitting the documents online, you can easily manage multiple projects seamlessly. At EcoStar Insulation, we provide a quick turnaround time on online spray foam cost estimate submissions.
Walk-Through Estimates
Walk-throughs offer the most accurate preliminary estimate. Our technicians will visit you on-site to assess the property and take measurements. During this process, our team can carefully inspect the needs of your properties and make recommendations that will extend the lifespan of your spray foam insulation in Toronto and maximize your energy efficiency. When you choose a walk-through estimate with our insulation contractors in Toronto, our team will get back to you with a cost estimate in just 2 business days.
Benefits of Installing Spray Foam Insulation
Spray foam insulation in Toronto is an excellent option for several reasons. Compared to traditional insulation materials, spray foam from EcoStar Insulation is engineered to optimize performance and provide a lifetime of energy efficiency. Spray foam insulation also prevents air leaks and water intrusion, which not only keeps your insulation lasting longer but protects your building materials.
When you invest in spray foam insulation costs with EcoStar Insulation, you can start realizing the return on your investment very quickly. The high-performing insulation minimizes strain on heating and cooling systems by enhancing heat retention. As a result, your heating, cooling, and maintenance expenses are significantly reduced. To get started with your building envelope, attic, crawl space, or basement insulation, contact EcoStar.