How To Choose The Right Crawl Space Insulation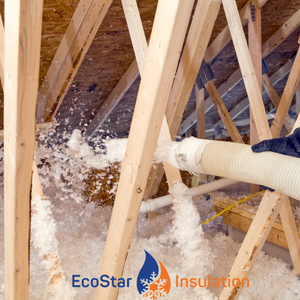 As the fall season has passed and the winter is upon us, now is a great time to consider your crawl space insulation. According to the U.S Department of Energy, more than 30% of your home's energy loss happens through the crawlspace. EcoStar Insulation provides both foam insulation and blown-in insulation options. It is important to understand the advantages of each so you can find the right option for your home.
Which one is better?
There is no right answer because it depends on how your home was originally built. If you have a concrete foundation and you want to fill the gaps between panels or under the entire foundation, choose spray foam insulation for its superior air barrier sealing qualities. Choosing spray foam insulation will prevent moisture from entering the concrete foundation, which could otherwise create cracks.
An energy audit of your home is the best way to determine what type of crawl space insulation is right for you. If your home struggles to keep the heat in, you'd likely be considering the installation of spray foam insulation. However, if your home is well sealed, you may consider something like fibreglass blown-in insulation to keep the heat out of your crawl space.
Factors To Consider When Choosing Crawl Space Insulation
When selecting crawl space insulation, there are three main factors to consider: Cost, R-value and longevity. Your selection should be made based on which factor is most important to you when buying insulation.
Homeowners who are concerned about the cost of insulation are typically looking for a low-cost solution that will deliver the highest R-value. This is typically achieved through using batts, rolls or blankets of insulation. Other foam products and spray foam can be used to create a space with a high R-value but at a higher cost.
Homeowners prioritizing longevity may look at blown-in products that have minimal installation and removal time. In addition, homeowners may look at softer materials such as cellulose, which tend to have a lower R-value but can last longer than spray foam and fibreglass. Similarly, homeowners looking for a low installation cost and longevity may choose less expensive spray foam that can be installed quickly but will have to be replaced in several years, which increases the cost per year. Spray foam is also known to have more waste than other options.
Choosing Blown-In Insulation For Your Crawl Space
Blown in insulation is a cost-effective way to insulate your crawl space. Blown in insulation is a type of insulation that is blown into the roof, and walls of crawl spaces. It is an alternative to time-consuming, messy, and hard-to-install products such as fibreglass and spray foam insulation. Blown-in insulation can be installed quickly and efficiently. It is also very easy for a professional to install, a professional will have your crawl space insulated in no time at all.
Blown-in insulation products can be made from recycled materials or virgin materials (products which are new to the industry). Insulation made from recycled materials is usually cheaper but usually less effective than using a new product. If you are worried about the environment or have limited budget, then recycled insulation could be right for you.
EcoStar Insulation is a local provider of blown-in insulation in the Toronto area. Our company is committed to providing homeowners with the most cost-effective home insulation solutions available. Our team of experienced installers is dedicated to providing you with the best possible service. Whether you need attic insulation, basement insulation, or crawl space insulation, EcoStar Insulation has an efficient solution for you. Contact us today to book our services!