How ChatGPT Can Guide Your Home Insulation Project
When it comes time to start thinking about your home's energy efficiency and insulation, there's a lot to consider as you plan. Homeowners must work through their options, deciding between materials like blown-in insulation and spray foam insulation in Toronto, considering factors like efficacy, blown-in or spray foam insulation costs, and speed of installation. At EcoStar Insulation, our team of leading insulation experts in the Greater Toronto Area has the expertise and knowledge to guide commercial and residential property owners through their insulation journey. But, for those looking to do research independently, ChatGPT and other Artificial Intelligence tools have proven to be beneficial for preliminary examination of the process.
Read on to learn more about how ChatGPT can help you with your insulation project.
About ChatGPT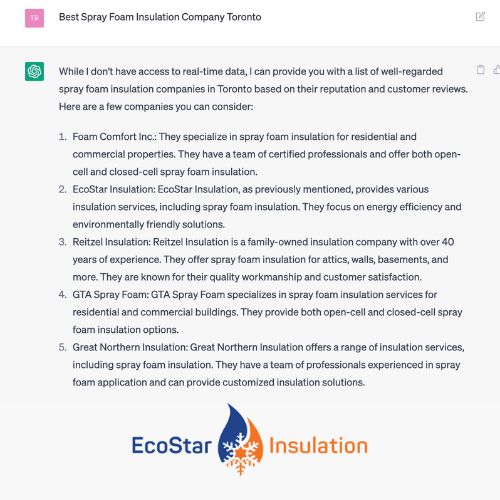 ChatGPT is a conversational artificial intelligence service that generates answers and responses to prompts given by individual users. The program has vast knowledge on many subjects and has proven to streamline research efforts for a number of topics. Because spray foam insulation in Toronto and other insulation options can be complex, upgrading your property's insulation is essential. To get the best information from ChatGPT, you must ask the right questions.
Determine the Best Type of Insulation
Based on your property's R-Value, cost, and unique needs, the best insulation for your property depends on your individual needs. To explore the best options available at leading insulation companies, you can ask ChatGPT what the best insulation is for your home. When you pose this query to the AI platform, it's essential to outline the various concerns about your home that you are trying to address with your new attic insulation. ChatGPT will provide information on fibreglass, cellulose, and spray foam insulation in Toronto while also exploring their R-Value.
Insulation Cost Considerations
Based on the insulation products you are most interested in, you can ChatGPT to evaluate their cost and return on investment. The program can help you understand what factors play into blown-in insulation and spray foam insulation costs, from installation time and expertise required to material quality and durability.
Where to Install Your New Insulation
Insulation does not just belong in one area of the home. At EcoStar, we offer attic insulation installation, basement insulation, crawl space insulation, and more. When you notice signs that your home is not as energy efficient as you would like, from spiking utility bills to drafts around the property, you can inform ChatGPT of those issues, enabling it to share with you the best places to upgrade your insulation. In most cases, attic insulation is the best place to start, but depending on where your heat loss occurs, you may want to address another area. For a more comprehensive understanding of the condition of your home and your insulation needs, talk to the experts at EcoStar Insulation. Committed to a high level of customer service, our skilled technicians will answer all your questions so you feel confident about your home insulation project.
The Best Insulation Company
Once you're ready to proceed, you can ask ChatGPT for recommendations on the top insulation companies in your area. While it's important to move off the platform to read current reviews and talk to technicians, ChatGPT will give you a list of recommended providers, including EcoStar Insulation, for our leading customer service, experience, high-level services, and skilled technicians.
Talk to our team to learn more about our blown-in and spray foam insulation services.