How Attic Spray Foam Insulation Helps in the Summer
Attics are a key component of your home, even though it may not seem like it. They play a significant role in indoor climate regulation by providing ventilation, containing attic insulation and moisture control. All of these components work together to make your home more energy efficient which ultimately saves you money and minimizes maintenance expenses. There are a variety of material choices provided by insulation contractors in the city, but one of the leading options at EcoStar Insulation is spray foam insulation in Toronto. By upgrading your aging or deteriorating attic insulation and investing in spray foam insulation costs, you can improve your overall climate control and indoor comfort so your home can better serve as an oasis away from summer heat waves.
Read below to see how spray foam insulation can help this summer.
What is Spray Foam Insulation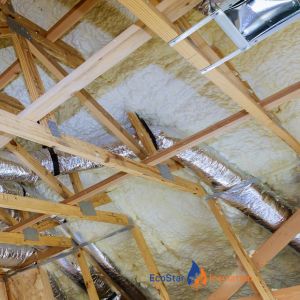 There are many different types of insulation. One kind that is becoming more popular in homes is spray foam insulation. This insulation is applied with a spray gun in a liquid form. Within 24 hours, it should dry into hard insulation lasting up to 100 years. It keeps its original shape as it doesn't compress, sag or settle through time. Spray foam insulation can be used to insulate and seal any kind of space; walls, floors, ceiling cavities, etc.
A few benefits of spray foam insulation are:
It creates an airtight seal
The R-values are installed at a higher rating (R-value is the measurement of the resistance of heat flow)
It's a premium-priced product that is long-lasting
Has structural strength wherever it is sprayed
Spray foam creates a low-maintenance solution to rid you of insulation problems.
Attic Insulation Damage That Affects Energy Efficiency
You may wonder why your energy bill is so higher or why your house is still warm after turning up the air conditioning. Any of the following can be the cause of this:
Leaks: can be a leading cause of high energy bills. Whether in your insulation or the windows and doors from the wear and tear. Sealing these leaks with caulk or spray insulation is best to get your home cool for the summer.
Water damage: can cause mold, deterioration of insulation, and leaks through the wall, roof, and ceilings. This creates leaks allowing generated air to escape, and the HVAC has to induce more energy to make cool, clean air. This can lead to higher bills at the end of each month.
Deteriorating insulation: also creates leaks, as well as weaker insulation in general. Without insulation, the home loses the ability to resist the outside temperature and moisture from the outdoors, which can seep in through the gaps, causing leaks and mold growth.
Filters: Dirty or clogged filters in your home can cause your HVAC system to work double as hard to generate clean air. Without cleaning, these filters can cause reduced airflow.
Signs You Need to Upgrade Your Attic Insulation
It may be time to look at new insulation if yours reaches 20 years. If you notice your energy bills are higher than usual, it may be because your insulation is not performing at its maximum due to wear and tear (water damage, leaks, etc.). From this, you may also notice a rise in your home's temperature. Insulation is made to keep the cool air in and the warm air out in the summer. Whether in your basement or attic, if your insulation is visibly deteriorating, such as falling off the wall, call a professional to check it. It's most likely that you need a replacement.
Switch to spray foam insulation and stop worrying about your insulation with EcoStar insulation.
Improve Your Energy Efficiency with Our Leading Insulation Contractors
EcoStar Insulation supplies and installs high-quality insulation to provide cost-effective energy solutions. With highly regarded customer service and industry expertise, we take the time to provide viable solutions for all of your insulation needs. To get a spray foam insulation cost estimate, reach out to our team of experts.