Fireproofing In Brampton: How to Keep Your Business Safe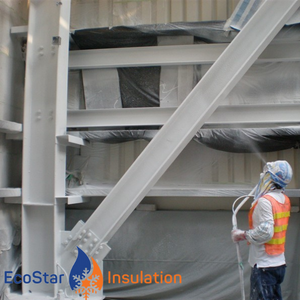 Whether you're a business owner or simply a homeowner, fireproofing your Brampton structure is highly recommended to ensure that your belongings and livelihood remain intact after a fire. While home and business owners can choose from a variety of fireproofing methods, many people are in favour of a fireproofing company that offers fire protection in the form of cementitious fireproofing because of its ease of application and long-term safety benefits.
What Is Cementitious Fireproofing?
Cementitious fireproofing is a type of fireproofing in Brampton that uses cement-based materials to protect structures from fire. This type of fire protection gives a structure a layer of protection which doesn't burn. As the cementitious material hardens, it works to slow the flow of oxygen and other flammable liquids to help prevent a blaze.
Aside from working to prevent or slow the spread of fire through a building, cementitious fireproofing in Brampton can also help to protect the underlying structure of the building. This is done by preventing any damage that flames may cause to steel beams, cement blocks, or stones, which are particularly vulnerable to high temperatures.
Cementitious fireproofing can be used in a variety of ways throughout a building. In addition to applying it directly to the floors and walls to protect them from fire, cementitious fireproofing can also be used as an additional layer for the exterior walls of a building.
Common Uses For Cementitious Fireproofing In Brampton
Cementitious fireproofing in Brampton is most commonly used in new construction but can also be added to an existing building that has already been completed. In addition to protecting new construction from fires, cementitious fireproofing is also an effective form of fire protection against other destructive forces such as floods, tornadoes, and hurricanes.
Why Is Cementitious Fireproofing Important For Businesses?
Fireproofing is vital for businesses as it can protect them from a range of potentially devastating consequences. Whether it's a fire that destroys your premises and stock, or an explosion ripping apart machinery and equipment, these incidents can potentially ruin a business and its owner.
In order to help combat this type of damage and prevent your premises from becoming an unfortunate statistic, businesses need to invest in cementitious fireproofing.
How Can Businesses Ensure That Their Cementitious Fireproofing Is Effective?
Fireproofing businesses can ensure that their cementitious fireproofing is effective by having it professionally installed and properly maintained by a company like EcoStar Insulation.
Reputable Company
Companies looking to add cementitious fireproofing should hire a fireproofing company in Brampton that can show certifications or have a verifiable record of experience. When businesses are looking for companies to install cementitious fireproofing, it's important to contact several and get quotes. A company with lower installation costs may also be less experienced or have inferior products and materials. Contact EcoStar today about the fire protection services that we offer at affordable prices.
Regular Maintenance
In order to ensure that the cementitious fireproofing is effective, businesses should also have regular maintenance performed. To find a reputable maintenance agency, companies should ask for referrals from existing customers or contact insurance companies and ask for referrals. They should also make sure that the maintenance agency has liability insurance and follows all local regulations for using these types of products.
In conclusion, cementitious fireproofing is an important way to keep businesses safe from fire. By having it professionally installed and regularly maintained, businesses can help to ensure that their buildings and contents are protected in the event of a fire. Contact EcoStar today to schedule an appointment for our fireproofing services offered in Brampton and the surrounding area.