FAQs About Fireproofing Your Insulation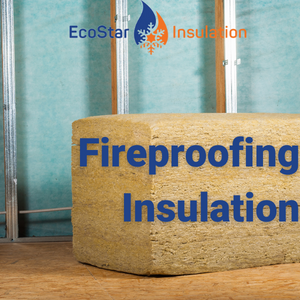 Investing in fireproofing services for your spray foam insulation in Toronto, Etobicoke, North York, Mississauga, and other GTA locations is one of the most effective measures you can take to protect your insulation, your home and your family. When it comes to fire protection, a little bit of prevention goes a long way. Inch By Inch Inspections offers residential and commercial fireproofing services in Toronto, North York, Etobicoke, Mississauga, and the GTA.
Fireproofing your insulation is not a difficult process, but there are a few considerations you should take into account before beginning the process. Here are the answers to some of the most frequently asked questions about fireproofing services for insulation.
What Is Fireproof Insulation?
First, let's cover what fireproof insulation is. This type of insulation is created to resist high temperatures for a specific amount of time, typically one hour. The fireproof insulation Ecostar Insulation provides is great for those looking for protection from the elements, such as mould and water infiltration. Unlike fire retardant insulation, which is often applied to structural elements like beams and rafters, spray foam (and other types of fireproof insulation) are sprayed on walls and ceilings to deter flames.
What Are Fireproofing Services?
Fireproofing services for insulation work are essential for keeping the insulation in your attic or basement fire-resistant. Many homeowners wonder if fireproofing services are necessary; if you do not have this type of insulation, you should seriously consider it.
Fireproofing services for insulation work are used as a protective layer on top of many types of insulation. This method can protect the insulation from extreme temperatures and flame.
Fireproofing services for insulation work can be applied to various materials, including glass wool, cellulose, fiberglass, and rock wool. These materials are commonly used in attics, basements, roofs, and walls.
One of the significant benefits of fireproofing services for insulation work is that they are nearly invisible once installed. They will also not interfere with the use of rooms that contain this material. Fireproofing services for insulation work cover the surface area on the material.
How Is Spray Foam Insulation Fireproof?
Spray foam insulation that is made with intumescent materials is environmentally friendly and will not increase the risk of ignition. Proven to withstand flash fire conditions, this type of spray foam insulation will prevent the spread and growth of flames and provide enhanced acoustic and thermal performance. When faced with a fire, this fireproof spray foam insulation will hold off the flames for up to 1½ hours, allowing for time for safe egress and keeping your family safe from harm.
How does fireproofing work?
When spray foam insulation is installed, it acts as its fire barrier. It will hold up against a standard B-rating for combustible materials, meaning that it has been tested to see how long it will take for a flame to spread through it. To reach its fireproof status, which is an A-rating or higher, the spray foam must withstand exposure to temperatures above 1000 degrees Celsius.
The solid foam used in spray foam insulation is resistant to both flames and heat, meaning that it will not ignite or suffer degradation in scorching conditions. Spray foam has passed UL-701 testing and has a Class 1 flame rating (the highest rating).
What is the difference between fire retardant insulation and fireproof insulation?
Many common misconceptions surround the two, so we're here to clarify them. The main thing you need to know is that fireproof insulation cannot be installed over a wood-framed structure, whereas fire retardant insulation can be applied over wood-framed structures.
The second difference is the testing standard. Fireproof insulation has to pass a third-party testing facility to prove its effectiveness, which can be costly. If a product does not have third-party testing, it is not considered fireproof insulation.
Fireproof insulation is tested and certified by Underwriter's Laboratory (UL) as fireproof. For it to achieve UL certification, it must pass two different tests, one for open flame and one for material exposed to closed flame, which measures how quickly the material will char and self-extinguish in a controlled environment setting.
Fire-retardant insulation only has to pass a test that shows it will provide the fire resistance required by building codes. This has less to do with a product's construction quality and more to do with what it's up against.
Final Word
EcoStar Insulation is a home insulation company specializing in commercial fireproofing and spray foam insulation installation for attics, basements, containers, and roofs in Toronto, Etobicoke, North York, Mississauga, and the GTA. We employ experienced, highly trained installers committed to ensuring customer satisfaction. Contact us today to learn more about our fireproofing services.