Comparing Blown in & Spray Foam Insulation in Toronto
From blown-in insulation to spray foam insulation in Toronto, many insulation materials are available to property owners in the region, each with its own benefits and ideal applications. Choosing the right insulation largely depends on various factors, from budget to the type of property you're retrofitting or building.
EcoStar Insulation is a leading provider of high-quality insulation materials as well as insulation services. For guidance choosing the best attic insulation, crawl space, or building envelope insulation, reach out to our team for support.
Why Upgrade Your Building Insulation?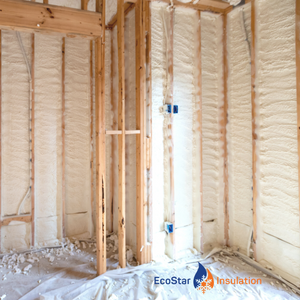 Eventually, most insulation materials lose their effectiveness and ultimately stop providing any benefit to your property. Insulation efficacy can drop for several reasons, including aging or time, contamination (pests or mold), water damage, or physical damage. When insulation decays, many property owners notice a lack of indoor comfort, difficulty regulating temperatures, and higher heating or cooling bills. To avoid the repercussions of outdated or aged insulation, property owners will update or retrofit their property upon noticing the early signs of a problem. If you suspect trouble with your energy efficiency, reach out to the EcoStar Insulation team to start your upgrade.
The R-Value of Insulation
Put simply, the R-value is the measure of the efficiency of insulation. Materials with a higher R-value have better heat retention properties than materials with a lower R-value. While both spray foam and blown-in cellulose insulation have good R-values, spray foam insulation in Toronto has quickly become popular around the city for its exceptional energy efficiency, and it can often outperform blown-in cellulose as an insulator.
Cost & Longevity of Insulation
For many property builders and owners, the best insulation is the most affordable. And while spray foam insulation in Toronto offers exceptional insulation and approximately 80 years of performance, it will typically cost more than alternative choices. Blown-in attic insulation, on the other hand, enables the high-quality energy efficiency many people are looking for at a slightly lower price. And under good attic conditions, blown-in insulation can last for decades. When choosing the best insulation product for your property, you should talk to your provider about your budget and expectations. The EcoStar Insulation team works with your budget to determine the best results possible.
Insulation Applications
Essentially the entire building envelope of a commercial or residential property should be insulated for optimal energy efficiency, including exterior walls, attics, crawl spaces, and basements. But, not all materials are ideal for each of these areas. Blown-in cellulose insulation is suited to attics. The easy-to-install material is suitable for complete attic insulation upgrades or top-ups. It is rarely used in crawl spaces, basements, or walls, whereas spray foam insulation is typically the preferred choice for the building envelope, including the attic.
Additional Benefits of Blown-In Attic Insulation
Blown-in cellulose insulation has sound-dampening properties that minimize the volume of exterior noises for a more peaceful interior environment. High-quality cellulose insulation is also treated to prevent mold and bacteria, supporting a healthy attic environment.
Additional Benefits of Spray Foam Insulation in Toronto
Spray foam insulation enables a vapour barrier when installed, keeping unwanted moisture out of your property and ultimately reducing damage to building materials, mold infestations, and pest infestations or nesting for better indoor air quality.
To boost your energy efficiency, talk to an insulation team you trust.