Cellulose Blown in Insulation vs Spray Foam in Mississauga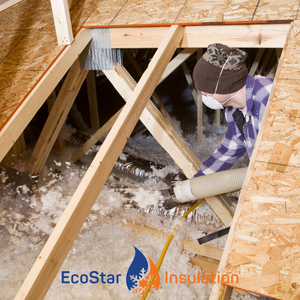 One of the most popular home improvement choices is blown in attic insulation in Mississauga. But it's not he only choice! At EcoStar Insulation, our two most popular insulation types are blown in insulation and spray foam insulation. Blown in insulation costs are generally less than spray foam, making it the more popular option. Still, both materials have benefits and drawbacks — read more to learn about the differences, costs, and benefits of both!
What is Cellulose Blown In?
Cellulose insulation is a loose-fill insulation material used in attics and walls. Often made from recycled paper, the tiny particles trap air to create an insulating barrier. This blown-in insulation type is highly flexible and conforms to fit spaces that batt-style insulation can't.
Blown in Insulation Mississauga Costs
For EcoStar clients, its cost is one of the most attractive features of blown-in insulation. Blown in insulation costs much less than many other types of insulation — though, of course, it all depends on the scope of your projects! One of the reasons cellulose insulation is inexpensive is that it is made from post-consumer recycled paper. Popularized in the 1970s, cellulose has also earned its place through decades of reliable performance.
Blown-in Insulation Benefits
Non-toxic and chemical-free
Great R-values
Can be used to boost the efficacy of old insulation
What is Spray Foam Insulation?
Another popular option for insulation is spray foam. Spray foam insulation is an excellent long-term solution for spaces like the attic. It is applied as a liquid that foams up upon contact with your walls or ceiling. Once it's cured, spray foam provides exceptional R-values and prevents water and air transfer.
Spray Foam Benefits
One time application
Highly resistant to mold, pests, and other issues
High R-values
Seals air leaks
Moisture resistant
Spray Foam Types
There are two main types of spray foam insulation, whcih can be referred to as closed-cell and open-cell spray foam. Both have different advantages and disadvantages — but you don't have to choose between the two on your own. The EcoStar team can help you determine what type of foam is more beneficial depending on whether you're insulating your crawlspace, attic, or other areas.
Which Type of Insulation is Best in Mississauga?
This is the million-dollar question! And it's tough for us to answer since it depends on your home's unique features and needs. At EcoStar Insulation, an essential aspect of our service calls is a thorough inspection of your home. Depending on its age, geographic location, and other individual factors, we may recommend one insulation type over the other.
Regardless of whether you'd like blown in insulation in Mississauga or if you'd prefer spray foam, the EcoStar team is here to help you make an informed decision about the advantages, benefits, and costs of each. Contact our team today to learn more about how we can help you with your next home improvement project.