The Best Basement Insulation Solutions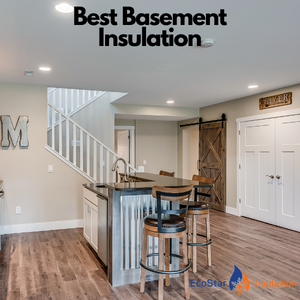 EcoStar Insulation offers home insulation solutions for both residential and commercial clients. From attic insulation to basement insulation solutions, EcoStar Insulation is one of the most trusted insulation companies in Missisauga. In this blog, we are going to talk about basement insulation solutions. Many homeowners don't know how to properly insulate their basements. They often turn to basement finishing contractors without conducting research on basement insulation options. When it comes to basement insulation, the best choice is a blown in insulation in Mississauga.
We'll go over the importance of basement insulation, the different types of insulation and most importantly what your options are as a homeowner.
Blown In Insulation: The Best Basement Insulation Method
Insulation is important in basements because it keeps your utility costs down by reducing heat loss through your basement walls, floors and ceiling.
With the average home having about 2,000 square feet of basement space, it's important to choose the best insulation method to keep your utility costs down. Blown in insulation is one of the most effective ways to insulate your basement because it fills in all the nooks and crannies that other methods might miss. It's also a great choice for homeowners who want to avoid dealing with fiberglass or other types of insulation material.
Other Types of Basement Insulation
Two other popular types of basement insulation are foam board insulation and fiberglass batt insulation.
Foam Board Insulation
This type of basement insulation is made from polyurethane foam and is one of the most outstanding forms of basement insulation when it comes to retaining heat. It's typically installed on the walls between the basement and first floor, which separates them. The polyurethane foam board helps keep heat in the living space and out of the basement, which bring down energy costs by lowering home energy loss. Foam board is more expensive than batt insulation, but it's easier to install and provides a better seal against air and moisture.
Fiberglass Insulation
Batt insulation is less expensive than blown in, but it can be more difficult to install properly. Fiberglass insulation is one of the most popular forms of basement insulation. It's made from recycled glass, although it's not technically recycled in all cases. The glass that's used to make insulation is debris that naturally occurs with the use of sand in the production of concrete. Instead of dumping the glass, companies have found a way to reuse it in insulation to help save the environment. When it comes to basement insulation, fiberglass has a higher R-value then polyurethane insulation, which we talk about next.
If you're not sure which type of basement insulation is right for your home, the best way to find out is to contact a professional company like EcoStar Insulation. We offer free consultations where we can assess your needs and recommend the best solution for your home.
Your Options As A Home Owner
There are a few things to keep in mind when you're insulating your basement. The first thing to consider is the type of space you have. If you have a finished basement, you'll want to choose insulation that won't disturb the drywall or other finishes. Second, take a look at your budget and decide how much you're willing to spend on insulation. Blown in insulation is typically more expensive than fiberglass, but it's also more effective. Lastly, think about the climate you live in. Basements in colder climates will need more insulation than those in warmer climates.
Once you've considered all of these factors, it's time to choose the best type of insulation for your basement. As we mentioned before, blown in insulation is always a great choice. It's easy to install and provides superior protection against air and moisture infiltration. If you are ready to book basement insulation installation services, contact EcoStar today!