Benefits of Spray Foam Insulation for Exterior Walls
Whether you are renovating an existing property or constructing a new building, insulation plays a crucial role in the process. The exterior walls, in particular, require insulation to provide the necessary protection. By using high-quality spray foam insulation, you will be able to reap the benefits of a well-insulated property for an extended period of time. At EcoStar Insulation, we offer top-notch insulation materials, free estimates for spray foam insulation costs in Mississauga & the GTA, and affordable solutions to help you get your property in shape.
What are Exterior Walls?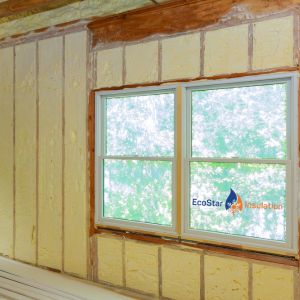 Exterior walls are vital parts of every commercial and residential property; they compose part of the building envelope, acting as a barrier between the outdoors and interior space. On the other hand, internal walls separate various indoor spaces, creating individual rooms. Exterior walls are exposed to the outside world and the elements, which make them susceptible to air leaks, water intrusion, and drafts.
Here's what you should know about the benefits of insulating your exterior walls.
Reduce Drafts
Insulating exterior walls with spray foam insulation helps improve indoor comfort and maintain climate control by sealing gaps and cracks. This creates a barrier that limits or completely stops the flow of air between the exterior and interior space of the building.
Insulation is designed to stop the transfer of heated air. When exterior walls lack insulation, allow the temperature outside to influence the indoor climate. This can lead to temperature imbalances and drafts. High-quality spray foam insulation provides thermal resistance, helping to maintain a more stable indoor temperature and reducing the likelihood of drafts caused by temperature differences.
Improves Energy Efficiency
To create a comfortable and habitable indoor environment, we rely on heating in the winter and air conditioning in the summer. Insulation is designed to keep the heated or cooled air from escaping through cracks or openings in exterior walls, allowing it to circulate longer. Because there is nowhere for the treated air to escape, the indoor environment will maintain the ideal temperature easier, reducing your energy consumption. By investing in spray foam insulation costs in Mississauga, you reduce your dependency on air conditioning and heating, which can reduce your monthly utility expenses.
Prevent Water Damage & Mold
When exterior walls begin to age over time, cracks and openings can facilitate water intrusion. Rain, snow and other wet weather can cause water to enter your property through the walls. Without proper insulation, these leaks can compromise building materials such as drywall and wood beams, increasing the opportunity for mold growth. When you invest in spray foam insulation costs with EcoStar Insulation, your walls will serve as an impassable barrier that keeps water away, which protects the health of your insulation and your indoor air quality from the effects of mold.
Install Spray Foam Insulation with EcoStar
Spray foam insulation is a leading insulation material that offers a lifetime of energy efficiency and durability. The expert installers at EcoStar Insulation will provide you with detailed spray foam cost estimates and reliable customer service.