Benefits of On-Site Spray Foam Insulation Cost Estimates
Polyurethane spray foam insulation offers several benefits, making it a popular choice for many homeowners and building owners. One of the main advantages of polyurethane spray foam is its ability to provide superior insulation. Unlike traditional home and attic insulation materials, polyurethane spray foam forms a seamless, airtight barrier that helps prevent heat transfer and air infiltration. This can lead to significant energy savings and improved indoor air quality. EcoStar Insulation is a leading supplier of spray foam in the Greater Toronto Area for homes, multi-unit buildings, and commercial properties, offering free spray foam cost estimates on-site. Contact our team of insulation specialists to learn more.
Types of Spray Foam Cost Estimates with EcoStar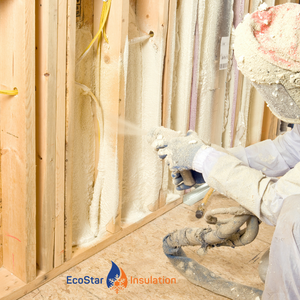 We offer a variety of estimate options for property owners and contractors looking for a quote on spray foam insulation costs.
Over-the phone: prospective customers can call the EcoStar team directly and discuss their project needs, for which our experts will provide an instant estimate.
On-site estimates: technicians will come on-site to carefully measure and assess the conditions and needs of the building.
Drawing-based estimates: architectural drawings and plans are submitted to the EcoStar team, and our experts will analyze and determine a fair estimate based on the blueprints.
On-site spray foam estimates are a favourite among property owners, builders, and renovators in the Toronto area. Read on to learn more about the benefits of on-site spray foam estimates.
Accurate Understanding of Building Needs
On-site spray foam insulation cost estimates offer several benefits to homeowners and building owners. One of the main advantages is that the cost estimate is based on the actual conditions of the building and its specific insulation needs. This means that the quote is more accurate and reflective of the true cost of the insulation project. In addition, on-site cost estimates allow the homeowner or building owner to see the insulation in action and better understand the process and the materials used. This can help in making an informed decision about whether spray foam insulation is the right choice for their needs.
Direct Communication with the Insulation Specialists
On-site cost estimates provide an opportunity for the homeowner or building owner to ask questions and get answers from a knowledgeable insulation professional. This can include questions about energy efficiency, environmental impact, and any other concerns they may have. On-site cost estimates can also provide valuable insights into the various types of spray foam insulation available and their associated costs. Our team at EcoStar Insulation is happy to answer any and all of your spray foam questions to help you make the most informed decision about your insulation upgrade.
Spray Foam with EcoStar Insulation
EcoStar Insulation is a leading insulation supplier and installation company serving the Greater Toronto Area. We offer a wide range of services that deliver long-lasting and high-quality results. Our teams of experts are equipped with the best equipment, training, and knowledge to properly install spray foam insulation, ensuring that it meets all local building codes and safety standards.