Are Spray Foam Insulation Costs Worth It
Spray foam insulation costs are commonly a concern for a property owner's building, renovating, or retrofitting their properties and looking for attic insulation services. Despite their higher cost when compared to alternative insulation materials, spray foam insulation offers a significant return on investment which is why it has become a popular choice in the Greater Toronto Area and throughout Ontario. EcoStar Insulation is a leading supplier of spray foam insulation in Toronto and nearby areas. Our team offers reliable customer service and high-quality materials. Contact our team today to request your free estimate.
Read on to learn more about why spray foam insulation costs are a worthy investment.
Lifespan of Spray Foam Insulation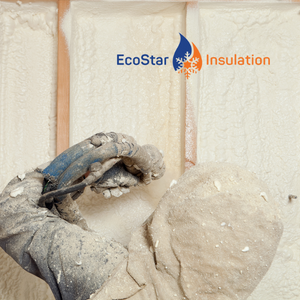 Other materials traditionally used by attic insulation services and builders only last about 20 years before they need to be replaced. This two decade time frame can be sped up significantly if insulation has been exposed to contaminants like mold, pests, asbestos, or leaks. Spray foam insulation offers superior protection against foreign contaminants and resilience. Designed to last up to 80 years longer than most building insulations, spray foam is only expected to be installed once in a lifetime, saving the costs of upgrades and replacements.
Keep Mold Out of Your Attic
Attic insulation services are often called in to handle extensive mold infestations. Unequipped or inferior insulation materials are more susceptible to mold which can bring on infestations more aggressively. Spray foam insulation, on the other hand, creates an effective moisture barrier around building envelopes preventing water intrusion and the entrance of mold spores. As a result, commercial and residential property owners will need attic mold removal less often, As a result, spray foam insulation costs outweigh the costs of replacing damaged insulation and attic restoration.
Increasing Your Energy-Efficiency
One of the main reasons spray foam insulation costs are higher than other insulation materials is because the innovative and advanced material offers greater thermal resistance. Installing spray foam insulation in your attic or anywhere in your building allows heated or cooled air to be better retained and cycled indoors, ultimately reducing the strain on your HVAC systems, which means lower energy bills and less furnace or AC unit maintenance costs. At EcoStar Insulation, we can control the R-Value or thermal resistance of spray foam insulation based on your needs depending on how many layers of insulation are installed.
Local Energy Grants & Programs
Because of its energy efficiency and ability to reduce your ecological footprint, local governments provide programs and grants that reward property owners for retrofitting and installing spray foam insulation. The savings that come with successful grant applications offsets the costs of spray foam insulation and improves return on investment. High-quality building envelope, basement, crawl space, and attic insulation services from EcoStar Insulation, you can enable years of savings.
Get the Most Out of Spray Foam Insulation Costs
If you're looking to maximize your investment into new spray foam insulation in the Toronto area, you can count on the experts at EcoStar Insulation for the best insulation options for your property. We do our best to provide you with budget-friendly insulation options and offer certified spray foam insulation.