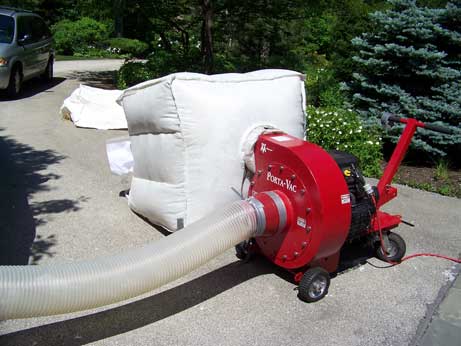 For Toronto homeowners considering insulation removal, there's likely a good reason behind it. And in some cases, it may have been recommended already. Hard to believe, but sometimes there is too much installed insulation, like in the attic – it restricts efficient airflow and prevents proper ventilation. In the basement, insulation removal may be required because of mold growth. The worst-case situation, of course, is to remove existing insulation because it was fabricated from harmful or hazardous materials (such as vermiculite or asbestos).
Insulation Removal During Renovations
Insulation removal is not uncommon during a renovation project or a retrofit. And while many homeowners opt to install new insulation right on top of the old insulation, complete removal is highly recommend during a retrofit, so that the insulation can be upgraded. Whatever the reason, it's absolutely critical to expedite insulation removal in a professional manner – it has to be done safely, using the proper tools and equipment, and without disturbing residents. The process of insulation removal is a "clean-up" procedure that must be done right.
At EcoStar Insulation, trained crews remove insulation in a highly professional way. They use specialized "vacuum" equipment; they discard waste through an exterior disposal method, and they leave no debris. This is the right way to expedite insulation removal. It allows for disposal of anything harmful, and it properly sets the stage for brand new insulation to be installed. With insulation removal, it's worth doing right the first time – it ensures the best possible conditions for sealing the space, installing new product, and creating ventilation.
Leaving Removal Work to the Professionals
For the average homeowner in Toronto, the idea of do-it-yourself insulation removal may well be attractive. But without doubt, this is work that's best left to professionals. The work is extremely laborious and time-consuming – in fact, it could take double the time of a professional. As for the risks, there are health hazards and contamination dangers. Beyond that, there may be animal remains, mold deposits, even vermiculite or asbestos. Simply put, insulation removal is a project best left to experts like EcoStar, with the experience and know-how.
To be sure, insulation removal is only part of the complete job. Post-removal, the space needs to be properly prepared for re-insulating. There may be a need for an air barrier or vapour barrier. There may be additional need to install better ventilation. And most importantly, there may be a need to effectively seal the space. For EcoStar Insulation, professional insulation removal is the first step in improving and upgrading energy efficiency – with better airflow management, better moisture control, and far better thermal insulation (the R-Values).
For EcoStar, the focus is always on satisfying homeowner needs, whether it's for attic insulation or basement insulation, and regardless of the size or scope of the project. EcoStar is committed to the highest standard of workmanship – with product warranties that are sound, and a company guarantee on the installation work. Whether it's installation or removal, the EcoStar team will ensure a level of service that delivers 100% customer satisfaction. It's simply about doing the job right the first time around.