The Benefits of Injection Insulation (with Spray Polyurethane Foam)
For homeowners who want to dramatically improve energy efficiency in the home, there are a lot of options to choose from. And while many homeowners understand the importance of insulating the attic, roof, or basement, there are other areas ripe for improvement – like exterior walls. In fact, some energy experts estimate that one-third of home energy is wasted through wall cavities that aren't insulated at all or are poorly insulated. That's wasted energy and wasted money.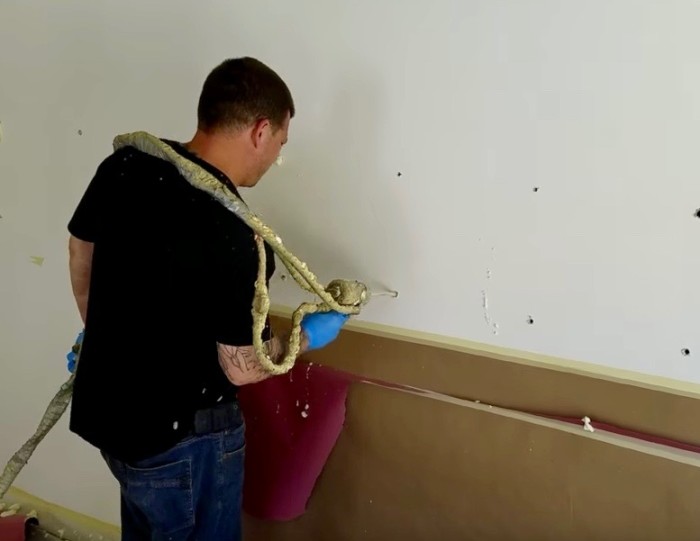 For exterior wall cavities, Injection Insulation is one of the most effective retrofit measures that a homeowner can undertake. Injection Insulation (using Spray Polyurethane Foam) will seal and insulate a wall cavity to the maximum, resulting in dramatic improvements to energy efficiency. In many homes, especially in older homes, Injection Insulation is the most cost-effective method for reinsulating the "building envelope", and ensuring far more efficient energy consumption.
By any measure, most homes could use some degree of insulation upgrade. For the professionals, insulating the so-called voids in exterior walls will assuredly block air movement – it means that indoor air (heated or cooled) will not escape. And it means that unconditioned air (air from the outdoors) will be prevented from coming into the home. A "building envelope" that is sealed tight also allows the HVAC system to perform better, with balanced heating and cooling cycles.
The beauty of Injection Insulation in a residential home is the flexibility of application. Installed properly, the Spray Polyurethane Foam is both versatile and multipurpose. No other product can deliver the range of benefits – air movement is blocked; moisture accumulation is prevented; and installed R-Values are without compare. Injection Insulation is ideal for re-insulating older homes that have wall cavities with no insulation at all, or with materials that are old and ineffective.
Spray Polyurethane Foam can flow in and around an empty space, filling a wall cavity completely. Professionally installed, SPF can be injected into a wall cavity from the interior of the home, or the exterior. As versatile as it is, it can even be injected behind exterior siding or existing brick. For the average homeowner, drafty areas of the home are eliminated, and walls that were cold to the touch are a thing of the past. The result: much improved energy efficiencies throughout.
At EcoStar Insulation, Injection Insulation is one of many residential services available. EcoStar installers look at the home as a complete "system". And when it comes to insulating that "system", the focus is on blocking airflow, stopping moisture from collecting, and maximizing efficiency. All installations are performed to code and according to the manufacturer's product specifications. This guarantees peak performance for the insulation, wherever it's being installed.
With Injection Insulation, EcoStar is focused on providing full customer satisfaction, regardless of the size of job. And retrofitting wall cavities will surely deliver results – from enhanced energy efficiency, to annual savings on utilities, to complete home comfort. There's nothing like Spray Polyurethane Foam for long-term performance.